Windows of light winds down South for the keen
South Australian Surf Forecast by Craig Brokensha (issued Monday February 28th)
Best Days: South Coast Wednesday, Thursday and Friday mornings, Mid Coast Saturday morning
Features of the Forecast (tl;dr)
Inconsistent SW swell building tomorrow, peaking Wed, with less consistent energy for Thu, fading Fri
Moderate S/SE winds tomorrow, light SW on Wednesday morning ahead of weak sea breezes (possibly W/NW early around Victor)
Light N tending S/SE winds on Thu, moderate N/NE tending W/NW on Fri
Small W/SW swell for Sat, easing Sun with variable tending strengthening S/SW winds Sat, strong S/SE Sun
Inconsistent, mid-period SW swell Sun and Mon with moderate levels of S windswell
Recap
Workable waves for the keen down South on the weekend with lumpy conditions Saturday and a mix of swells to 2-3ft, bumpy but improving as winds tended variable through Sunday morning before fresh S/SW winds kicked in early afternoon. The Mid Coast was tiny for most of the weekend.
Today the surf is smaller with variable winds and 2ft sets down South, flat on the Mid Coast.
This week and weekend (Mar 1 - 6)
Tomorrow will be a lay day as winds revert back to the S/SE as a trough pushes up from the south-west, spoiling some new, building SW energy. This swell which is expected to peak Wednesday was generated by a broad, elongated fetch of strong to near gale-force W-W/NW winds late last week and on the weekend, with Middleton due to see 2-3ft sets Wednesday, only 0.5-1ft max on the Mid Coast.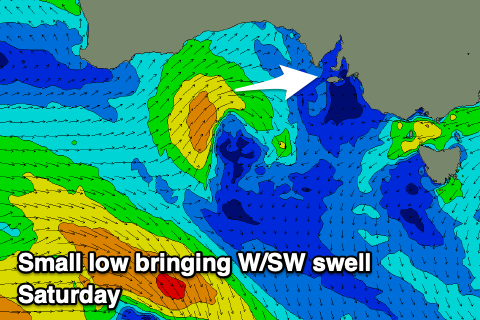 Winds should ease and tend light SW on Wednesday morning, possibly even tending W/NW around Victor ahead of weak sea breezes. Come Thursday the swell should hold a similar size to Wednesday but be less consistent as a long-range, long-period SW groundswell from the earlier stages of the frontal progression moves in.
Winds look good and light out of the N'th ahead of S/SE sea breezes, so this looks to be a more reliable day for a trip down South. Friday will also be clean with a N/NE tending W/NW offshore but the swell small and fading from 2ft across Middleton.
As we move into the weekend the surf will deteriorate as winds strengthen owing to a deepening trough pushing east, strengthening off Victoria. This will bring strong S/SW winds into Saturday afternoon (lighter early but with a low point in swell down South), strong S/SE on Sunday. The Mid Coast should see 1-2ft of W/SW swell from the earlier stages of the trough on Saturday but get in early for the cleanest conditions.
The deepening trough will kick up moderate levels of S'ly windswell on Sunday, mixed in with some new mid-period SW swell from a relatively weak polar frontal progression. Unfortunately besides a possible window of variable winds Monday morning a ridge of high pressure sitting west of us next week will aim persistent S/SE winds across the state.
The Mid Coast doesn't look to provide much in the way of surf, but we'll have a closer look at this on Wednesday.