Very average outlook ahead
South Australian Surf Forecast by Craig Brokensha (issued Wednesday January 19th)
Best Days: South Coast tomorrow morning, Mid Coast for beginners Saturday afternoon and Sunday
Features of the Forecast (tl;dr)
Easing S/SE windswell tomorrow with moderate NE tending fresh SE winds
Tiny, inconsistent W/SW swell Sat PM and Sun with light morning winds and afternoon sea breezes
Recap
Our strong pulse of new W/SW groundswell filled in nicely later Monday with a kick to 2ft+ along with improving conditions while yesterday hung in around 2ft through the morning with the big early high tide, receding through the day. The swell kicked back to 2ft+ with the incoming as winds remained favourable providing a full fun day of surf.
Today the swell is on the way out with full 1-1.5ft sets in the gulf while the South Coast has been generally poor and onshore.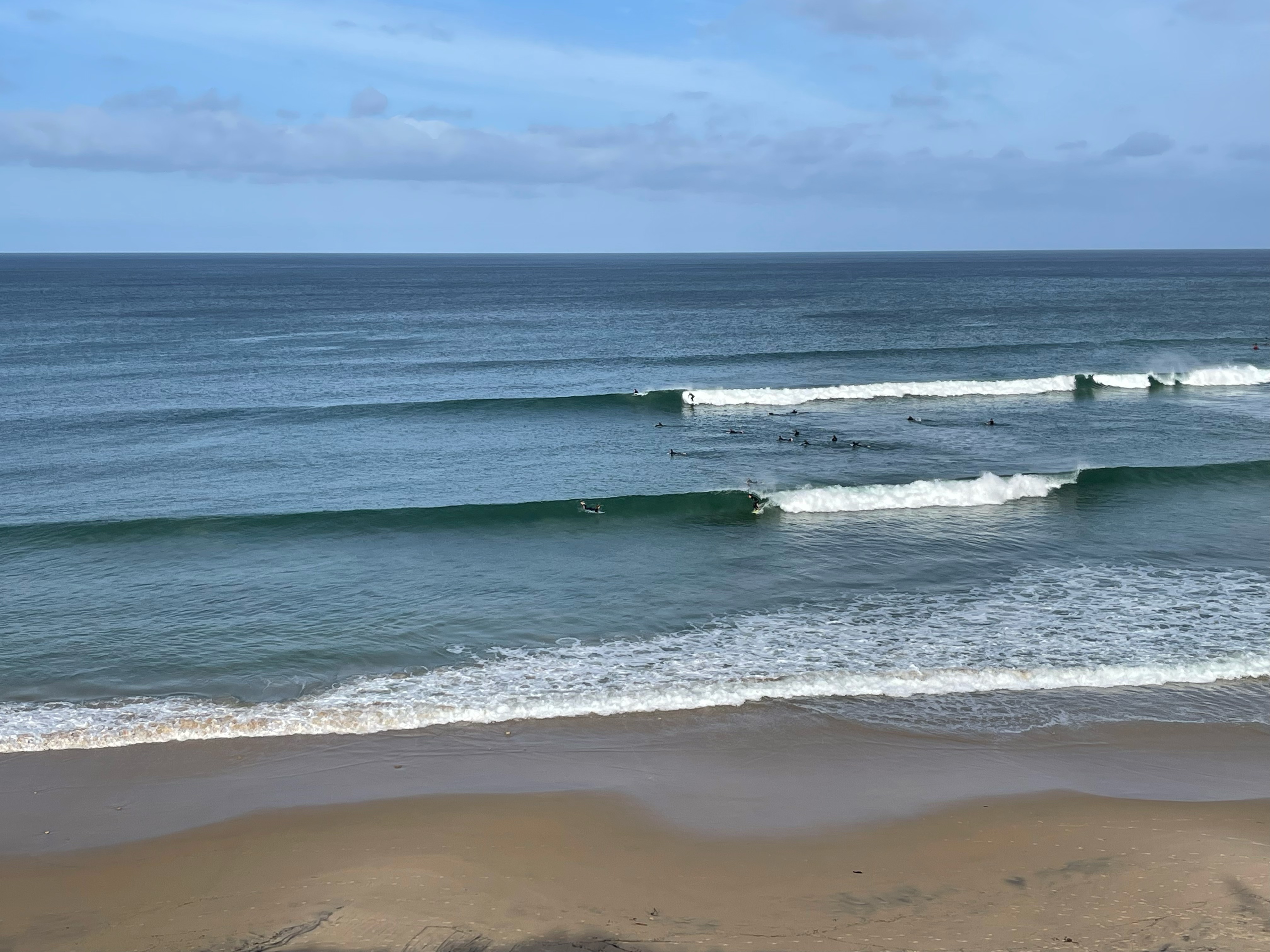 This week and next (Jan 20 - 28)
Down, down down. I hope you made the most of the swell the last few days as we've got a poor run of surf over the coming period and it won't be due to the local winds, just the lack of groundswell energy.
We've got an extended run of favourable winds from the north-eastern quadrant, and the reason for this along with minimal levels of groundswell is a large, persistent blocking pattern setting up across the south of the country.
Currently a strong high pressure ridge is edging in from the west while inland troughs squeeze its northern flank, directing a squeezing easterly pressure gradient across the south-east of the country,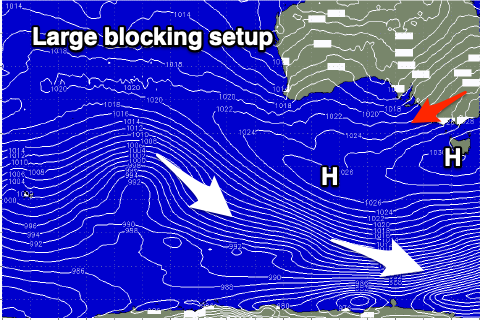 This high will remain stubborn and near stationary across Tasmania through the end of the week and weekend, combining with a secondary ridge moving in from under Western Australia into next week.
The inland troughiness will move ever so slowly south (offshore) and into the Bight, pushing the high pressure belt further south which puts a bigger block across our swell windows in the Southern Ocean.
Locally we can expect NE winds down South, and tomorrow morning will be worth making the most of with a mix of easing mid-period S/SW swell and S/SE windswell from the 2ft+ range across Middleton, 2-3ft at Waits and Parsons. Once this swell fades due to the infeed of local S/SE winds being cut off tomorrow, we'll see the surf bottom out across the South Coast.
NE winds will continue into Friday and Saturday mornings with a more variable breeze on Sunday morning but with tiny levels of swell to 1ft+ across Middleton.
The Mid Coast should see some tiny W/SW swell to 1ft Saturday afternoon and Sunday, generated by a broad though distant and weak frontal progression through the southern Indian Ocean the last couple of days. This will provide waves for beginners on the beaches around the lower tides.
As the low forms in the Bight early next week we'll see winds tip more NW on Monday and Tuesday, with the low possibly bringing a strong W/SW change on Wednesday as it pushes east. This will bring a localised increase in windswell on the Mid Coast but the models still diverge a little around this outcome. So make the most of tomorrow morning down South and check in for Friday's update.