Poor run of surf this period
South Australian Surf Forecast by Craig Brokensha (issued Wednesday September 29th)
Best Days: This morning, Sunday for the keen on the South Coast magnets, Tuesday morning
Features of the Forecast (tl;dr)
Moderate sized, mid-period S/SW swell tomorrow with a building S/SE windswell into the PM. Fresh S/SE tending S/SW-SW winds
Mix of S/SE windswell and secondary pulse of S/SW swell for the PM Fri with strong S/SW winds
Easing S/SW swell Sat with light S/SE winds, increasing through the day
Small leftovers Sun with fresh N/NE tending N/NW winds
Moderate sized W/SW windswell and mid-period swell for Mon/Tue with strong W/SW winds, possibly variable Tue
Recap
A slow start down South yesterday but the new mid-period swell filled in through the day offering good 2ft+ waves across the Middleton stretch with favourable winds. The afternoon remained clean and fun with exposed spots the pick of the region.
This morning it's dropped back a touch and conditions were again clean with light winds but we'll see them shifting onshore from the S/SE into the afternoon so surf soon. The Mid Coast has been tiny to flat both yesterday and today.
This week and weekend (Sep 30 – Oct 3)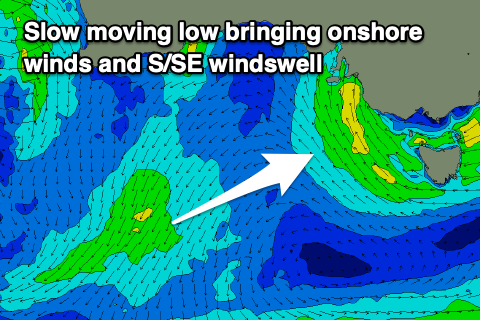 A broad mid-latitude low is currently positioned to our west, and it'll move slowly east-southeast through today, bringing an afternoon S/SE change which will remain fresh into tomorrow as the low squeezes a strong high to our south.
The slow moving nature of the low across the south-east of the country will see wide-spread heavy rainfalls, with storms firing up across our state this afternoon.
A moderate sized S/SE windswell will be seen down South, mixed in with a new, moderate sized, mid-period S/SW swell. The better of the two, the S/SW swell, was generated by a healthy polar frontal progression under the country at the start of the week (pictured below right).
Middleton should see 3-4ft waves, but conditions will be poor with that fresh S/SE tending S/SW-SW breeze. The S/SE windswell looks to build later in the day and come in a similar size Friday morning (that being 3-4ft) while easing.
There's a secondary pulse of mid-period S/SW swell on the cards for Friday afternoon, generated by another polar frontal system dipping in from the southern Indian Ocean, generating strong to gale-force W/NW-W winds along the polar shelf.
This swell should build Friday afternoon and keep waves up around 3-4ft across Middleton before easing from the 3ft range on Saturday. All these swells will be unfavourable for the Mid Coast with tiny to flat conditions set to prevail.
Coming back to the local winds and Friday looks to remain poor with strengthening breezes from the S/SW.
Lighter breezes are expected Saturday morning but from the S/SE, keeping conditions well below par down South.
Sunday is the next clean day with fresh offshore N/NE tending N/NW winds but smaller, easing surf from 1-2ft across Middleton (better on the swell magnets)
Next week onwards (Oct 4 onwards)
We'll see a weakening mid-latitude front pushing in through Sunday at some stage, bringing a shift in winds and kicking up a weak W/SW swell for Monday, with a secondary system possibly pushing the size up a little more. Winds will be onshore for the Mid which will see most of the size Monday, with variable winds on the cards for Tuesday as wel fall in between fronts.
We'll have a closer look at this again on Friday.