Great weather, small waves to end off the week
South Australian Surf Forecast by Craig Brokensha (issued Wednesday March 31st)
Best Days: South Coast swell magnets every morning Thursday-Sunday, Mid Coast late Sunday, South Coast Tuesday and Wednesday mornings
Features of the Forecast (tl;dr)
Small, inconsistent background swells this week with favourable morning winds
Building SW swell Sunday with variable winds ahead of sea breezes, peaking Mon with morning SE winds, holding Tue with E/NE-NE morning winds
Easing swell Wed with a light N/NE offshore
Recap
A kick in swell yesterday morning with lumpy, workable conditions on the South Coast, tiny and full on the Mid Coast.
Today is cleaner and a touch smaller down South, perfect across Middleton for bigger boards and tiny on the Mid Coast.
This week and next (Apr 1 - 9)
Small, inconsistent 1-2ft waves are due to persist across Middleton tomorrow, Friday and Saturday morning, with infrequent 1ft sets on the Mid Coast on the favourable parts of the tide (Thursday and Friday).
Conditions will be great each morning down South with a light N/NE-N offshore tomorrow (mid-afternoon sea breezes), similar Friday and N/NW tending W/SW-SW on Saturday.
We then look at the frontal progression firing up under the country Friday through the weekend, with moderate levels of mid-period swell due from Sunday through Wednesday. The initial stages of the progression tomorrow should produce a small W/SW component to the swell on Sunday afternoon as well.
The frontal progression isn't overly strong but it is broad, elongated and sustained with fetches of strong to gale-force W/SW winds projecting through our western, then south-western swell windows, strongest south-west of us into Saturday and Sunday.
What we should see is building surf Sunday, though now strongest Monday and still sizey Tuesday on the South Coast.
Sunday's increase should see waves building from a small 2ft across Middleton in the morning, kicking to 3ft+ later in the day, with the Mid Coast building to 1-1.5ft. Monday and Tuesday should see 3-4ft surf across Middleton, with the Mid hanging in at 1-1.5ft Monday, fading Tuesday.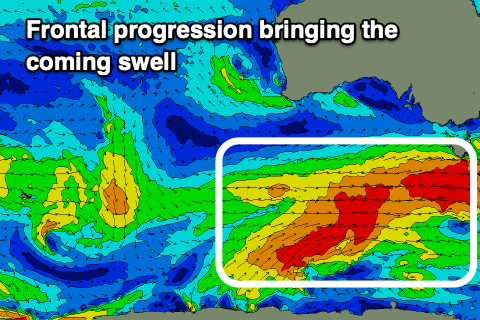 Conditions will be favourable for both coasts Sunday morning with a variable breeze, average into the afternoon as the swell builds with freshening sea breezes, swinging offshore late on the Mid. Monday will be best on the Mid with a moderate to fresh SE breeze, possibly tending E/SE at times down South but generally poor.
Tuesday will improve slightly down South with an E/NE-NE offshore, much better Wednesday with a N/NE offshore and easing 3ft sets across Middleton.
Longer term we're looking at a fun new SW groundswell next weekend from a strong polar front progression firing up later next week, though local winds are tricky as a mid-latitude low spawns in the Bight. More on this Friday.