Smaller swells with lighter winds
South Australian Surf Forecast by Craig Brokensha (issued Wednesday March 17th)
Best Days: South Coast every morning over the coming period, Mid Coast Friday afternoon and Saturday for the desperate, possibly Tuesday morning as well
Features of the Forecast (tl;dr)
Easing S/SW groundswell tomorrow with variable N-NE winds ahead of sea breezes
New S/SW groundswell building Fri PM with variable morning winds (like SE down South, E/SE tending S/SE on the Mid), easing Sat
Fun W/SW swell building Fri PM, easing Sat
Light NE winds Sat and Sun AMs with small levels of S/SW groundswell
New W/SW swell for Tue but with dicey winds
Recap
A slow start to both coasts yesterday, but a new S/SW groundswell mixed with mid-period W/SW energy filled in through the day, kicking the Mid Coast from 1-1.5ft to 1-2ft into the afternoon with solid 4-5ft sets developing off Middleton.
Today the W/SW swell was all but gone leaving tiny, full 0.5-1ft waves on the Mid, still solid down South and with variable winds and cleaner, lumpy conditions.
This week and next (Mar 18 - 26)
We'll see the surf continuing to ease over the coming days and conditions will remain favourable for the South Coast, variable tomorrow morning, tending light N, then NE ahead of SE sea breezes. Size wise the swell will be easing back from 2ft across Middleton with tiny to flat conditions on the Mid Coast.
Into Friday we've got our mix of inconsistent, mid-period W/SW swell and S/SW groundswell from the same storm.
An initial mid-latitude front firing up south-west of WA has now formed into a low while tracking south-east through our swell window.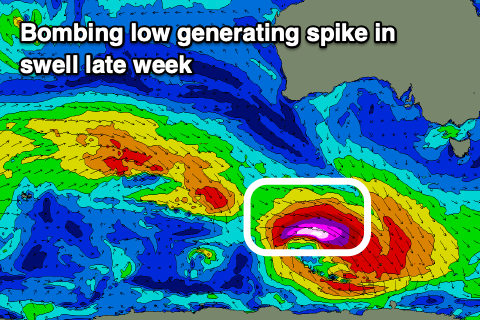 This deepening low is actually actually a 'bombing' low, dropping more than 24hPA in central pressure within 24 hours, with a strong, tight fetch of severe-gale to storm-force W/NW winds being projected unfavourably through our southern swell window.
The low will move fast as well, which isn't ideal but we should see a spike in swell Friday afternoon on the South Coast, kicking to 3ft across Middleton, easing from 2-3ft Saturday morning.
The W/SW component should build to 1-2ft through the afternoon on the favourable parts of the tide across the Mid Coast, dropping back to 1-1.5ft on Saturday, tiny Sunday.
Winds on Friday will be best for the Mid and E/SE (S/SE into the afternoon), with variable (likely SE) winds on the South Coast ahead of sea breezes. Saturday and Sunday mornings should be fun across the exposed beaches down South, light NE ahead of sea breezes.
Size wise, another south-east tracking low should generate a small pulse of S/SW swell for later Saturday and Sunday morning, but this will be smaller and later forming in our swell window. Therefore not much above an inconsistent 2ft is due across Middleton, slightly bigger on the magnets.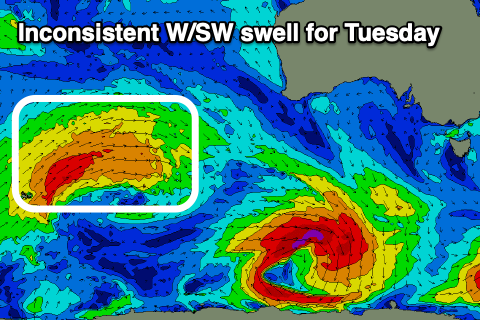 We'll see the surf fading into early next week with variable morning winds on Monday, but we should see a new, inconsistent W/SW groundswell for Tuesday.
The source of this swell will be a relatively weak but slow moving mid-latitude front firing up north of the Heard Island region and pushing slowly east while generating strong to near gale-force W/WW winds. The front will break down south-west of Western Australia on Friday, with the swell arriving late Monday but likely peaking Tuesday morning. Size wise the Mid Coast should see infrequent 1-2ft sets with 2ft+ waves down South. Winds could be an issue with a trough possibly moving through bringing S tending SW breezes, but we'll have a closer look at this on Friday.
Longer term there's still no hint of a proper autumn frontal progression through the Southern Ocean but we'll continue to keep an eye on things.