Slightly better outlook for both coasts this period
South Australian Surf Forecast by Craig Brokensha (issued Friday March 12th)
Best Days: This afternoon South Coast, desperate surfers protected spots down South tomorrow morning, keen surfers Mid Coast Sunday morning and Monday morning, Tuesday morning both coasts, Wednesday morning South Coast
Features of the Forecast (tl;dr)
New mid-period S/SW swell building this afternoon with light winds, easing tomorrow with strengthening SW winds (possibly W/NW for a period around Victor)
SW windswell for Sat PM and Sun, best on the mid with a morning S/SE breeze
Mix of swells Mon with local morning offshores
Stronger S/SW groundswell building Tue PM with E/SE tending S/SE winds, easing Wed with E/NE-NE winds ahead of sea breezes
Recap
The South Coast has been fun the past two mornings with a variable breeze and clean, slightly wobbly 2-3ft surf across Middleton yesterday morning, back to 1-2ft today and best on the swell magnets. The Mid Coast has continued to offer teasing 0.5-1ft waves with glassy morning conditions.
This afternoon a new S/SW swell is due down South and winds look favourable, with mostly variable breezes due. So aim for an after school/work surf.
This weekend and next week (Mar 13 - 19)
This afternoon's S/SW swell should hold into tomorrow morning, generated by a patchy though OK looking polar low earlier this week. It'll be a touch inconsistent but should provide 2-3ft sets across Middleton tomorrow but nothing for the Mid Coast.
Unfortunately a cold front pushing in early tomorrow will bring a strengthening SW change around dawn to both coasts, creating deteriorating conditions.
The hi-res wind models have a possible W/NW inflection across the Victor region mid-morning so if in the area keep an eye on it for a small window of OK conditions in protected spots, but for the most part it'll be poor.
The front will bring some weak, windswell into the afternoon across both coasts, not really pushing above 2-3ft down South and reaching a choppy 2ft on the Mid Coast.
Sunday isn't looking much bigger with a weak 2-3ft of S/SW windswell down South, way under the jump in size shown on the forecast charts. This is because the models are combining a background, mid-period swell with the localised windswell.
The Mid Coast looks to ease back from 1-2ft and winds will improve, swinging S/SE during the morning ahead of sea breezes, S'ly all day down South.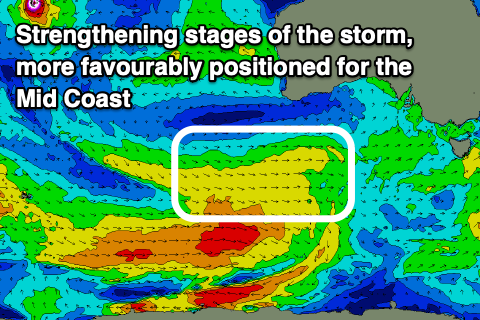 We'll see conditions clean up down South on Monday morning with a light NW'ly ahead of an approaching front (W/SW-SW from late morning), but size and swell wise we'll be looking at smaller 2ft to possibly 3ft waves across Middleton. The Mid should be clean as well with NE breeze but tiny swell back to 1-1.5ft.
Into the afternoon some new mid-period SW swell is expected ahead of a stronger S/SW groundswell on Tuesday afternoon/Wednesday.
This groundswell will be generated by a broad, stronger polar front come low forming under the country tomorrow. We'll see a great fetch of W/SW gales produced through our southern swell window, reaching severe-gale around the core of the low late in our swell window before the system passes under Tasmania.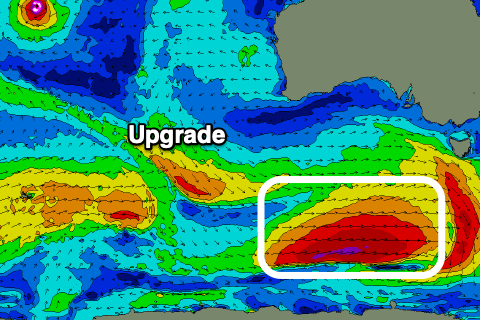 We'll see the swell building Tuesday afternoon, with mid-period SW energy for the morning, coming in around 3ft across Middleton, but reaching a strong 4ft+ into the afternoon/evening, while the Mid Coast should see 1ft to occasionally 2ft sets on the favourable parts of the tide.
The swell looks to peak overnight, easing back from 1-1.5ft on the Mid Wednesday and 4ft across Middleton.
Looking at the local winds and a workable though not great, light to moderate E/SE breeze is due Tuesday morning ahead of sea breezes, better Wednesday down South and E/NE-NE ahead of sea breezes.
Make the most of these days of surf, as the outlook will be very quiet into the end of the week and next as we move into a positive Southern Annular Mode (SAM), seeing high pressure dominate our swell windows.
This will bring winds from the eastern quadrant and no major surf (not very autumn like), but more on this next week. Have a great weekend!