Average few days, better into next week
South Australian Surf Forecast by Craig Brokensha (issued Wednesday February 10th)
Best Days: Keen surfers Saturday on the Mid Coast and Sunday, South Coast Tuesday, Wednesday and Thursday mornings
Features of the Forecast (tl;dr)
Small W/SW swell building Fri PM with SW winds, easing Sat with morning S/SE winds
New SW groundswell building Sun with light to moderate morning S/SE winds, fresher S/SE into the afternoon, easing Mon with a light E/SE tending stronger S/SE breeze
Reinforcing SW swell Wed with E/NE-NE winds in the AM, easing Thu with N/NE-NE winds in the AM
Good W/SW groundswell potential late next week/weekend
Recap
Lumpy conditions yesterday down South with a bit of size left on the coast, improving through the morning before the sea breeze kicked in, cleaner today but back to a slower, 2ft on the sets across Middleton. Exposed beaches are the pick.
The Mid Coast has been tiny to flat.
This week and next (Feb 11 - 19)
Tomorrow is still a lay day with the surf due to keep fading but with favourable N/NE tending N/NW winds ahead of an approaching mid-latitude front. Unfortunately there'll be no size left down South, with micro peelers for beginners at Day St to Goolwa.
Looking at the mid-period W/SW swell due into Friday and it looks like it's been delayed a touch and also downgraded. This is due to the tropical turned mid-latitude low linked to it, which is sitting south-west of Western Australia stalling in its current position which isn't too favourable for swell production.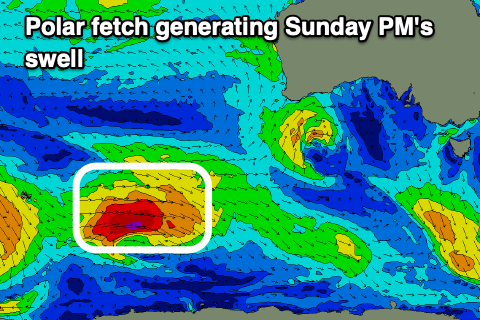 Once it does start moving east this afternoon, it'll be weaker with a slim fetch of 20-25kt W/SW winds projected through the Bight as the system dips east-southeast. As a result expectations have been revised and we're only likely to see a small 1-2ft wave developing into Friday afternoon on the Mid Coast, easing from 1-2ft on Saturday. The South Coast will be smaller with sets reaching 2ft+ late across Middleton and easing from a similar size Saturday morning, but without any power.
Winds look more onshore Friday as well and from the SW across all locations, S/SE on the Mid Saturday morning, swinging SW through the day, with SW tending S/SW winds all day down South.
Our stronger SW groundswell for Sunday is on track, with it due to build into the afternoon, generated by a stronger fetch of W/SW winds from a polar front forming east of Heard Island today. This will be in our far-medium range swell window, with the swell being small in the morning Sunday but reaching an inconsistent 3ft+ across Middleton into the afternoon, 1-1.5ft+ on the Mid Coast.
Winds will be an issue still down South with a light to moderate, morning S/SE breeze, fresher into the afternoon, a little better and E/SE Monday morning as the swell starts to ease.
From Tuesday we should see lighter, more offshore winds across the South Coast as a high slowly moves east, bringing a light, variable breeze initially Tuesday, E/NE-NE Wednesday morning and then NE-N/NE on Thursday.
Some fun mid-period SW swell should fill in as well, generated by not overly strong but persistent polar front activity east of Heard Island, extending under the country through late this week and into weekend. Size wise Middleton should come in around 3ft Wednesday, easing slowly from then but only 1ft on the Mid Coast.
Longer term we've got some decent W/SW swell on the cards for late week/next weekend as a strong node of the Long Wave Trough develops south-west of Western Australia, steering strong storms through our western swell window. More on this in the coming updates though.