Deteriorating conditions from later today
South Australian Surf Forecast by Craig Brokensha (issued Friday 5th February)
Best Days: Today down South, desperate surfers protected spots down South tomorrrow AM, South Coast for the keen Tuesday AM and Wednesday AM
Features of the Forecast (tl;dr)
Easing SW groundswell tomorrow with gusty, varying W/SW-W/NW winds in the AM, W/SW-SW into the PM
New mid-period S/SW swell building Sun with S/SW tending S/SE winds
Inconsistent SW groundswell Mon with fresh E/SE-SE tending S/SE winds
Easing swell Tue with E/NE winds in the AM, fading Wed with morning N/NE winds
Recap
It was great to see cleaner conditions on the South Coast yesterday and with some fun, easing swell from 2-3ft. Today we've got a new, inconsistent but good SW groundswell with sets to 3-4ft across the Middleton stretch with great conditions for summer.
The Mid Coast was tiny yesterday while we've got a mix of windswell and groundswell to a choppy 2ft today owing to a strong onshore breeze.
This weekend and next week (Feb 6 - 12)
The mid-latitude low that's been sitting west of us the last couple of days is now moving slowly east, bringing the strengthening winds which will tend W/NW on dark today.
Overnight and tomorrow we'll see winds trying to swing onshore as the low pushes further east, strong from the W/SW at dawn, possibly swinging back to the W/NW for a period of time but then back onshore from the W/SW late morning - SW into the afternoon. We'll see today's inconsistent SW groundswell dropping back from the 3ft range across Middleton, while the Mid Coast looks to be around 2ft most of the day, tiny Sunday.
Moving into Sunday, behind the low a weak fetch of S/SW winds will bring a spike in mid-period S/SW swell through the afternoon to 3ft across Middleton though with moderate to fresh S/SW tending S/SE winds.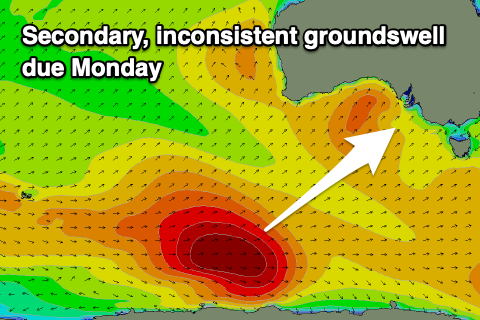 Our, stronger though inconsistent groundswell due late in the day and more so Monday is on track. This swell was generated by a slightly smaller (in scope) polar low, firing up in a similar position to the one generating today's swell. It'll come in a touch smaller than today's swell and likely to an inconsistent 3ft+ across the Middleton stretch, tiny on the Mid Coast.
Winds will remain poor for the South Coast and fresh out of the E/SE-SE, tending S/SE through the afternoon, slightly better Tuesday and E/NE through the morning but with easing 2-3ft sets across Middleton. Wednesday will be the cleanest as winds shift N/NE through the morning but the swell will be weak, small and fading from 2ft across Middleton, best on the swell magnets.
Following this there's nothing too significant on the cards until next weekend when we'll likely see a good mid-latitude front/low generating some decent W/SW swell along with hopefully, favorable winds. More on this Monday thouhg. Have a great weekend!