Poor run for the South Coast, tiny on the Mid
South Australian Surf Forecast by Craig Brokensha (issued December 25th)
Best Days: South Coast Saturday morning, Mid Coast for the desperate late Monday, Tuesday morning and Wednesday morning, South Coast for the keen Tuesday morning
Features of the Forecast (tl;dr)
Easing mid-period S/SW swell on the weekend best on the magnets Sat AM
Slight upgrade in new swell due early next week but with south winds
Recap
A tiny 1ft or so of swell persisting on the Mid Coast yesterday with peaky/windswelly morning conditions, much clenaer today and holding 1ft. The South Coast was poor with a drop in swell from Wednesday and onshore winds.
Today there's a little more swell down South and conditions are trying to improve with a lighter E'ly wind.
This weekend and next week (Dec 26 – Jan 1)
Today's smallish, mid-period S/SW swell will ease back over the weekend with light, variable winds from the north and fun conditions for the keen on the swell magnets tomorrow morning. Middleton will be small and easing from 2ft+ or so, better at Waits and Parsons before sea breezes kick in. The Mid Coast will be tiny to flat.
Looking at Sunday and the window for a clean wave looks only to be at dawn with a light N'ly breeze due to swing W/NW by 7-8am ahead of a strong S/SW change. With the lack of size, it's not worth worrying about.
The swell due in the wake of Sunday's change has been upgraded slightly due to the cold front linked to it being broader and a touch stronger. A burst of strong W/SW winds is forecast to be generated through our close-range swell window Saturday evening and Sunday, with a much weaker trailing front Monday.
The activity looks a little better placed in the Mid Coast's swell window, producing tiny 1-1.5ft waves into Monday afternoon, holding Tuesday (owing to the reinforcing front), fading Wednesday from 1-1.5ft.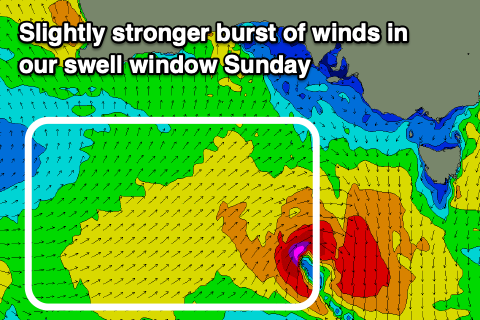 The South Coast should see 3ft sets into Monday afternoon, holding Tuesday morning before easing from 2-3ft Wednesday morning.
Winds look poor still with fresh S/SE tending S'ly winds Monday, better and more workable Tuesday, light to moderate from the S, increasing through the day (more so in the gulf). Moderate S/SE winds will then create bumpy conditions Wednesday with the easing swell.
Into the end of the week winds will deteriorate and strengthen from the S/SE on Thursday , tending SE Friday as an inland surface trough deepens north of the state, squeezing a strong high to our south-west. This will spoil an inconsistent, long-period SW groundswell due to build Thursday afternoon (though with no major size) while also kicking up a localised S/SE windswell Friday morning. We may see improving conditions next Saturday, followed by average surf into the New Year, but more on this Monday. Have a great weekend and Merry Christmas!