A couple of fun windows to surf down South
South Australian Surf Forecast by Craig Brokensha (issued December 23rd)
Best Days: Keen surfers Christmas morning South Coast, South Coast Saturday morning, desperate surfers South Coast swell magnets dawn Sunday
Features of the Forecast (tl;dr)
Building mid-period SW swell tomorrow, tending S/SW in direction Fri, easing Sat, best on the beaches Sat AM
Small mid-period S/SW swell early-mid next week with S-E winds
Recap
Onshore winds will building swells across both coasts yesterday, not great at all but improving late on the Mid for the desperate with weak 1-2ft sets.
Today the South Coast is looking fun with lined up 2-3ft sets across Middleton and a weak onshore wind. The Mid Coast is also cleaner but weak, peaky to 1-1.5ft and best for beginners on the beaches.
This week and weekend (Dec 24 - 27)
The outlook for tomorrow isn't great, but there should be some fun options down South on Christmas morning.
Today's SW swell is expected to east into tomorrow morning, reaching a low point in the morning ahead of a new mid-period SW swell that's due to build into the afternoon, holding Friday while tending more S/SW in direction.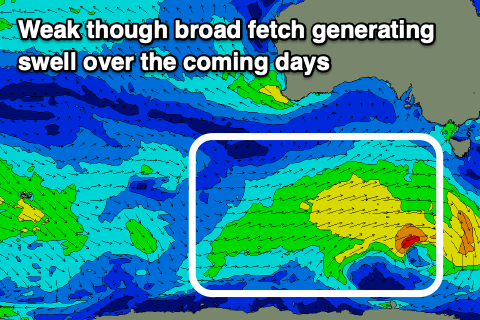 The source of the swell is a weak though broad frontal progression that's currently south-west of us. We've seen a pre-frontal fetch of strong W/NW winds generated in our south-western swell window, with a broader fetch of strong W/SW winds now being generated in our southern swell window.
This fetch will weaken further but remain in our swell window today, pushing slowly east tomorrow.
This will prolong the swell event, but with the weakening wind strengths, the strength of the swell will also drop after a peak in energy tomorrow evening.
Size wise Middleton should build back to 2-3ft tomorrow afternoon, holding Friday, then easing Saturday from a smaller, weak 2ft+.
The Mid Coast looks to be tiny and 1ft max on the sets tomorrow, fading Friday and flat Saturday.
Tomorrow morning winds aren't too bad, light to moderate from the S/SE with a small 2ft wave across Middleton ahead of the swell, though the afternoon will be poor with fresher winds.
Friday morning looks peaky and fun down South with an E/NE breeze, favouring selected spots ahead of S/SE breezes. Saturday morning is still looking fun with variable offshore winds, though that small, easing swell, so hit up the swell magnets.
Looking at Sunday and there's a window of clean conditions early down South with a N/NW offshore, but the surf will be tiny and likely only 1-1.5ft across Middleton, 2ft at Waits and Parsons for the patient. Get in early though as a strong SW change is due by late morning.
Moving into next week, Monday will be poor with moderate to fresh S/SE winds lingering in the wake of Sunday's change along with a small lift in windswell and mid-period S/SW energy is due but to no major size.
A better mid-period S/SW swell is due Tuesday, followed by SW energy Wednesday, generated by the cold front bringing Sunday's change.
A broad though weak fetch of strong SW winds will be projected from the polar shelf towards us on the weekend, with a secondary front Sunday afternoon and evening due to produce additional W/SW winds. We then may see further weak activity following this, but all in all this progression won't generate any major size.
Surf to 2-3ft is likely across Middleton Tuesday through Wednesday, with the Mid Coast lucky to offer a 0.5ft wave. Winds should swing SE into Tuesday morning, and then more E'ly Wednesday but not offshore, back to the S/SE later week.
Longer term the outlook remains void of any major swells as another strong, blocking high moves in late week following the frontal activity earlier in the week, but we'll have another look at this Friday. Have a Merry and safe Christmas!