Friday, 17 April 2020
Solid swells from all directions this period
South Australian Forecast by Craig Brokensha (issued Friday 17th April)
Best Days: Both coasts tomorrow, South Coast Sunday, both coasts Tuesday and Wednesday
Recap
Poor conditions across both coasts yesterday with onshore winds and small surf down South, and a weak building windswell on the Mid Coast.
Today our new W/SW swell is filling in with bumpy 2ft waves on the Mid this morning, but we should see 3ft sets on the magnets through the day, 3-4ft off Middleton and clean/lumpy early but now onshore.
This weekend and next week (Apr 18 - 24)
Today's first pulse of W/SW swell was generated by a strong mid-latitude front pushing under WA and through the Bight the last couple of days.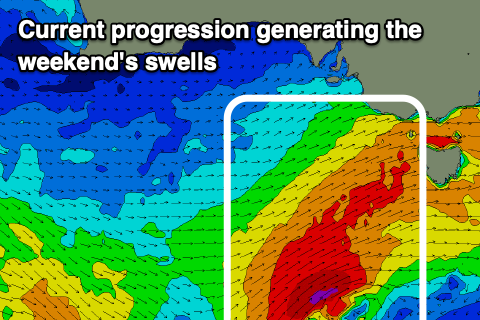 Following right on the back of this today is a secondary front which is generating SW gales south of us, but at the base of this, a fetch of severe-gale SW winds are being generated in our southern swell window.
What we should see is moderate to large levels of SW swell tomorrow down South, with a larger S/SW groundswell kicking later in the day, then easing Sunday and dropping right back on Monday.
Size wise, the Middleton stretch tomorrow morning should be around 4-5ft, with 2ft+ waves on the Mid Coast, with the pulse of S/SW groundswell providing 6ft sets late in the day at swell magnets on the South Coast.
Sunday will still be solid and easing from 4ft+ or so across Middleton, dropping to 2-3ft through the day with 1ft to occasionally 2ft leftovers Monday morning. The Mid Coast looks to ease from a slow 1ft to possibly 2ft Sunday, with a building windswell Monday - discussed below.
Looking at the local winds and tomorrow will be best down South with a morning W/NW breeze, W/SW-SW into the afternoon, while the Mid Coast should see light morning E'ly winds, with light to moderate W/NW breezes into the afternoon.
Sunday looks good again with early NE winds on the Mid, though freshening from the N through the day, with excellent N/NW tending fresh N/NE winds down South.
As the swell fades on Monday a strengthening cold front moving in from the west will bring an onshore change before dawn, with fresh but easing W/SW winds. Not a surf day with the fading small swell.
The Mid Coast will see building levels of swell though, with 1-2ft sets due through the day, much stronger Tuesday.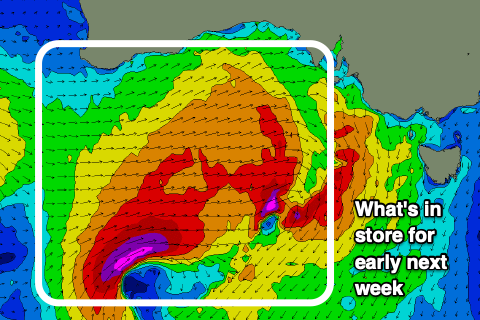 The source of this moderate to large sized W/SW groundswell will be a strengthening mid-latitude front come low through the weekend and Monday.
We'll see a great fetch of strong to gale-force W/SW winds projected up and then under WA Sunday, then pushing east and developing a low, with core wind speeds around the low due to reach severe-gale-force.
A strong W/SW groundswell should fill in Tuesday and provide easy 3ft waves across the Mid Coast, 4-5ft down South, then easing back from 2-3ft and 4ft respectively Wednesday morning.
With the frontal progression dipping south-east early next week, conditions look favourable with N/NW winds down South, N/NE tending N/NW on the Mid, and then similar Wednesday. We'll have another look at this and run through the expected winds and swell on Monday, as well as promising follow up swells. Have a great weekend!