Friday, 14 February 2020
The run of poor surf continues
South Australian Forecast by Craig Brokensha (issued Friday 14th February)
Best Days: Desperate surfers South Coast swell magnets Monday morning, dark Tuesday on the Mid Coast, Mid Coast Wednesday
Recap
Poor conditions with a building swell on the South Coast yesterday though as winds freshened, back to the tiny stuff on the Mid Coast. Today the South Coast was cleaner with more variable winds but a little less size, tiny to flat on the Mid again and bumpy.
This weekend and next week (Feb 15 - 21)
Don't bother about surfing on the weekend as conditions will become very poor with a strong S'ly wind tomorrow and junky S'ly windswell. Winds are due to ease back to moderate on Sunday and tend S/SE-SE, but it'll still be average to poor and easing from a weak 2ft+ or so.
Come Monday winds are due to swing variable out of the NE but the swell will be tiny and all but gone. Try Waits and Parsons if you're desperate.
We then look into Tuesday and Wednesday and our new W/SW groundswell event, with the frontal progression linked to it currently just north-east of the Heard Island region.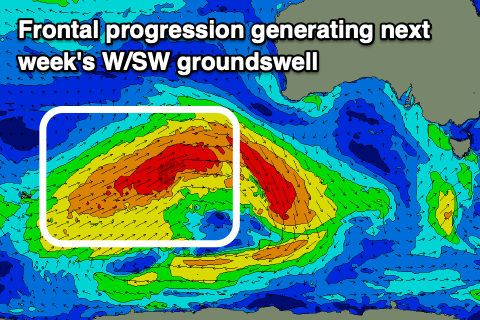 A great fetch of W/SW gales are being projected through our western swell window, with it weakening south-west of WA tomorrow evening, followed by a trailing broad weak fetch of strong W/SW winds. This will prolong the swell event, but looking at the timing and we should see a good kick in size Tuesday afternoon on the Mid Coast, more so Wednesday down south.
Size wise the Mid should build to 2ft into Tuesday afternoon, holding Wednesday on the favourable parts of the tide with Middleton seeing 3ft+ sets on Wednesday.
Winds unfortunately Tuesday look poor and strengthening out of the S/SW, better Wednesday on the Mid with a S/SE offshore holding most of the day.
The swell will fade into the end of the week as winds slowly swing more south-east to east, but the South Coast isn't due to see any decent new groundswell.
Unfortunately the longer term still remains void of any quality waves so hang in there. Have a great weekend!