Monday, 11 May 2015
Large swell but with onshore winds
South Australian Forecast (issued Monday 11th May)
Best Days: Protected locations down South tomorrow and Wednesday, Mid Coast for tiny clean peelers Friday morning, South Coast from the weekend into next week
Recap
Pumping clean surf down South Saturday with 3-5ft waves across the Middleton stretch under a strong W/NW breeze. The Mid Coast was an average and messy 1-2ft.
A new strong swell filled in Sunday but straighter W'ly winds left protected locations with the only real decent waves. A stronger onshore W/SW change pushed through the afternoon and this has kept large but bumpy waves hitting the South Coast this morning. The Mid picked up to a stormy 3ft through yesterday before easing from a sloppy 2-3ft this morning.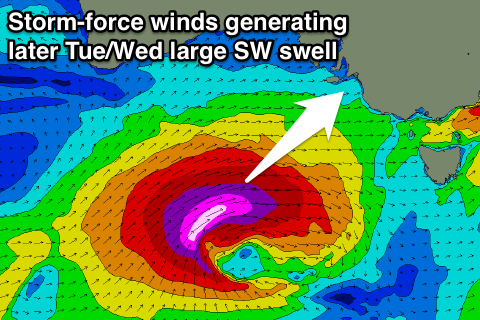 This week (May 12 - 15)
Today's large SW swell was generated by the cold front that pushed through yesterday and in its wake this afternoon we should see the swell drop away, easing further into tomorrow morning.
This will only be a very temporary drop between swells, as we'll see a large and powerful SW groundswell arriving through the afternoon and pulsing strongly towards dark before peaking early Wednesday morning.
The source of this swell will be a very intense low that's formed south of WA today and will project a fetch of severe-gale to storm-force W/SW winds into Victoria.
The only issue are the local winds which look to be poor with a strong W/SW tending SW breeze due through tomorrow (likely W'ly at dawn around Victor) and then strong S/SW tending SW winds into Wednesday.
Size wise the South Coast should build to 6-8ft at Middleton on dark tomorrow with 8-10ft sets at Waits and Parsons and other deep water reefs before peaking overnight/early Wednesday and easing from a similar size.
The Mid Coast should kick to 2-3ft and ease from a similar size Wednesday morning.
The easing trend through Thursday will be slowed by a new S/SW groundswell arriving through the day, generated by a fetch of SW gales on the back of the low pushing through our swell window.
A moderate to large size S/SW groundswell should be produced, keeping most breaks up around 4-6ft through Thursday on the South Coast before easing from 3-5ft Friday morning. The Mid Coast should ease from 2ft and then down from 1-1.5ft Friday morning.
Winds will remain poor though and fresh to strong from the S/SW Thursday and then moderate from the S/SE Friday. This will finally favour the Mid but the swell will be tiny as stated above.
This weekend onwards (May 16 onwards)
The surf will become small into the weekend but winds should improve for the South Coast and swing offshore.
A small and inconsistent long-range swell is due to build Saturday and then easing Sunday with offshore winds each morning and early afternoon.
A couple of better groundswells are due next week with favourable N'ly winds, favouring exposed breaks across the South Coast. More on this Wednesday though.