Easterly winds all week
South Australian Forecast (issued Monday 11th July)
Best Days: Tuesday morning down South, Friday morning down South
Recap
Conditions were great down South on Saturday with a fun swell and all day offshores while the Mid Coast was tiny.
A strong S'ly change moved through overnight and this created poor conditions across both coasts as the fore-runners of a strong new SW groundswell filled in. This provided good waves across the Mid into the late afternoon with sets to 2ft as winds tended offshore.
Today the swell was still maxing on the South Coast to a lumpy 6-8ft but starting to ease with inconsistent 1ft to occasional 2ft sets on the Mid.
This week and weekend (Aug 11 - 17)
After such an excellent week of waves across the South Coast last week, this week will unfortunately looks to be quite average.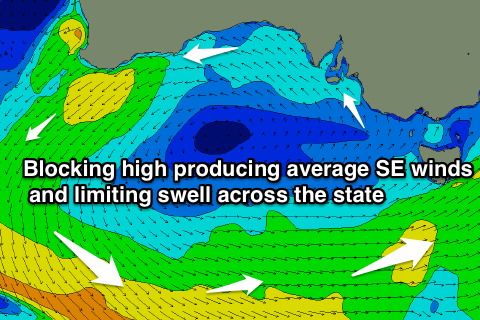 This will be related to a strong and slow moving high pushing in from the west across us, resulting in persistent E/SE winds across the South Coast.
This will create clean conditions on the Mid, but yesterday afternoon's and today's swell will fade away leaving tiny to flat surf across the coast through the week.
A steady drop in S/SW swell is due across the South Coast, with morning E/NE winds likely tomorrow (creating peaky/lumpy conditions) while Wednesday looks like a day to miss as the swell bottoms out with E/SE tending S/SE winds.
A new moderate sized S/SW groundswell is due later Wednesday ahead of a peak Thursday, generated by a small but strong polar front skirting around the bottom of the large blocking high.
This should provide 3-4ft waves across Middleton with 5ft sets at Waits but winds will again persist from the E, swinging more SE during the afternoon.
Friday will be the day to surf as lighter NE winds develop down South and the S/SW groundswell slowly drops away.
Into the weekend there's nothing major expected with the swell expected to become small to tiny down South Saturday and remain so into Sunday morning.
Winds will remain average as an inland surface trough starts to deepen just to our east, resulting in strengthening E/SE tending S/SE winds Saturday and S'ly winds Sunday. The Mid Coast will be clean and a long-range and inconsistent W/SW swell should offer 1-1.5ft waves into the afternoon and Monday morning.
Longer term there's nothing major on the cards at all into next week, but we'll look at this again on Wednesday.