Stormy weekend, settling down through next week
South Australian Forecast (issued Friday 27th June)
Best Days: Saturday morning on the Mid for a stormy, early Sunday in protected locations down South, mid-late morning Tuesday down South with variable winds, Wednesday
Recap
The South Coast offered good medium sized waves under W/NW winds yesterday morning, but into the afternoon, a strong new SW groundswell filled in as winds clocked more offshore from the NW. This saw great surf at exposed reefs to 6ft to occasionally 8ft, with lots of options around the Chiton Rocks area.
Overnight the swell has dropped quite a bit and conditions were tricky with a strong to gale-force N/NW offshore. The Mid Coast was an average 2ft to occasionally 3ft with fresh NW winds yesterday, while today similar chopped up 2-3ft waves were breaking, but we should see a stormy build into the afternoon as winds tend gale-force W/NW.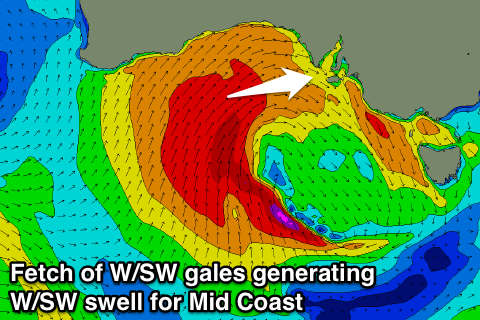 This weekend (Jun 28 - 29)
Currently a vigorous mid-latitude low is moving in from the west and this is generating two separate fetches.
An initial fetch of W/SW gales through the the Bight will kick up 2-3ft of W/SW groundswell for the Mid tomorrow but this will be hidden under a stormy 3-4ft or so of windswell under strong SW winds.
A secondary fetch of S/SW gales wrapping up around the bottom of the low up into us this evening and tomorrow should generate a large S/SW groundswell for the South Coast tomorrow afternoon, building to 6-8ft at most locations late in the day but conditions will be poor as strong W/SW winds swing SW through the day.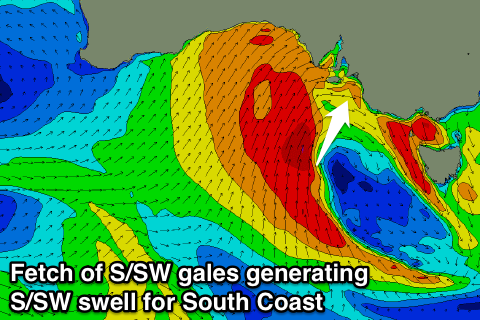 Sunday morning is looking better as a secondary front pushes in from the west steering winds back to the West temporarily around Victor before returning to the SW.
This will favour protected locations as the swell eases from 6ft+ across most spots. The Mid Coast should offer 2ft+ waves most of Sunday but SW winds will continue to create poor conditions.
Next Monday onwards (Jun 30 onwards)
The weekend's swell should continue to ease through Monday but winds will be poor and onshore across both coasts from the SW down South and S/SW tending SW on the Mid.
One final pulse of considerable S/SW groundswell is due to fill in Tuesday, generated by a polar front pushing up towards us Sunday evening and Monday.
This swell isn't likely to reach the model forecast of 4-6ft at Middleton, with slightly smaller 3-5ft surf due across most spots Tuesday. Winds are looking a little dicey with a lingering onshore likely down South but this should tend variable during the morning offering good conditions into the late morning.
Wednesday will be much better with a dropping swell from 3ft to occasionally 4ft across most breaks and offshore N/NW winds.
Longer term there's nothing significant on the cards until late Friday and more so the weekend with some new medium-large S/SW groundswell possible, but we'll look at this again Monday.