Stormy week on the Mid, pumping Thursday down South
South Australian Forecast (issued Monday 23rd June)
Best Days: Mid Coast most days for stormy waves (biggest tomorrow, Friday and Saturday), Tuesday in protected spots down South, Wednesday, Thursday (afternoon especially), Friday, early Saturday and Sunday in protected spots
Recap
The weekend was great down South with a good swell Saturday and offshore winds, while the Mid Coast offered fun clean 2ft waves with an easing swell.
Sunday was offshore all day down South with slightly less swell and the Mid Coast eased from 1ft to occasionally 2ft as conditions deteriorated with a strengthening N'ly wind.
Today a stormy 3-4ft of swell has kicked up along the Mid Coast, while the South Coast was smaller and clean but tricky with a fresh and gusty W/NW breeze. A stronger W'ly change is now moving through and with this an afternoon kick in SW swell is due but more on this below.
This week (Jun 23 - 27)
The coming week will be wild and wooly as a series of vigorous cold fronts push into us.
The first system is currently moving through, whipping up the stormy swell on the Mid Coast, but additionally to this, a fetch of severe-gale to storm-force S/SW winds projecting up into the South Coast during the day will produce a large and powerful S/SW groundswell for tomorrow.
Size wise, exposed spots should come in at 6-8ft+ during the middle of the day tomorrow but strong W'ly winds will limit the best conditions to protected corners, which will be smaller. The Mid Coast will still be in the stormy 3-4ft+ range and with strong to gale-force W/SW winds.
A drop in swell is due into Wednesday but conditions will improve across more locations down South with better W/NW winds.
Of greater importance is the development of a secondary large SW groundswell for Thursday from a deepening frontal system from under WA Tuesday night.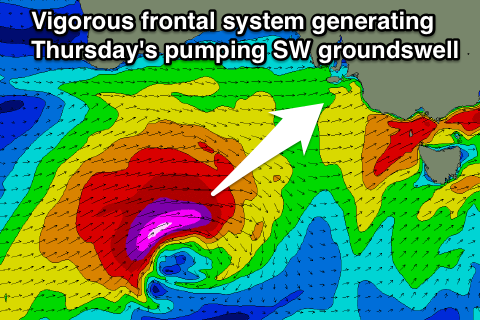 This system will aim another fetch of broad severe-gale to storm-force W/SW winds through our south-western swell window while tracking towards Victoria (right). The swell should arrive through Thursday and build towards a peak near dark to 6-8ft+ at exposed spots again with 6ft surf at Middleton.
The Mid Coast isn't likely to drop below 2-3ft on Wednesday and will likely kick up to 3ft+ Thursday afternoon with a drop in size across both coasts due into Friday morning (the Mid should kick in size again through the afternoon with a building stormy).
Winds on Thursday are looking excellent down South as an approaching front steers them from the W/NW during the morning around to the NW into the afternoon. So definitely plan a surf around Thursday afternoon across the South Coast.
Friday should then see strong NW tending W/NW winds, so get in early for the best conditions.
This weekend onwards (Jun 28 onwards)
The large swells and strong winds will continue into the weekend as yet another vigorous mid-latitude front pushes in from WA, through the Bight and across us on Saturday.
This swell for Saturday will have more west in it than Thursday's swell and will kick up a stormy windswell on the Mid Coast to a solid 4-5ft, with 2-3ft waves on the Metro beaches.
The South Coast should also kick but some localised SW windswell will be in the mix as the front passes and projects SW gales into the state. The Wave Watch model is struggling to resolve the windswell and groundswell components resulting in an over-forecast of the size Saturday down South.
What we should see is 5-6ft sets at Middleton, with larger bombs at Waits under strong W'ly tending SW winds.
A drop in size is due into Sunday in the wake of the front, but a reinforcing S/SW groundswell is due Monday from a weaker trailing front pushing into us Sunday. Winds will remain onshore for the Mid with an early W'ly down South, but more on this on Wednesday.