Large windy swell to end the week, good swells developing next week, large across P-Pass
Hawaii North Shore, Micronesia and PNG forecast by Craig Brokensha (issued on Thursday 27th December)
Best days: North Shore tomorrow, later Friday and more so Saturday, Tuesday afternoon onwards - Micronesia tomorrow morning, Tuesday onwards
This week and next (Dec 14 - 21)
Hawaii: Our better NW groundswell for today has filled in across the island with 6ft+ sets on the magnets with great conditions.
This swell will ease back temporarily through tomorrow from the 4-5ft range with light E/SE winds, while on dark we may see the long-period forerunners of our larger swell for Friday filling in.
The swell was produced by a distant but significant storm spawning off Japan earlier this week, with a fetch of severe-gale to storm-force W/NW winds projected through our north-western swell window.
The low stalled slightly while weakening and is now breaking down south of the Aleutian Islands. With this we'll see the easing trend slowed a little.
The bulk of the swell is due to fill in Friday with inconsistent 8-10ft+ sets developing across the marquee reefs into the afternoon but a trough moving in from the west will bring average N/NE winds, improving later and tending more NE.
Saturday looks much better with E/NE trades and easing surf from 6-8ft, smaller Sunday.
The coast will remain quiet until about Tuesday when we see some inconsistent new long-period NW groundswell, growing further in strength Wednesday ahead of a larger W/NW groundswell Thursday.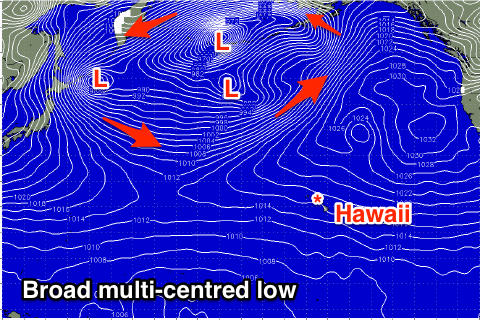 These swells will be produced by a broad and multi-centred storm forming across Japan, the Kamchatka Peninsula and the Aleutian Islands.
Bursts of broader and stronger severe-gale W/NW winds will be projected through our north-western swell window, generating building pulses of NW groundswell, while a more southerly fetch of severe-gale W/NW winds projecting towards us will generate the largest W/NW pulse.
A gradual increase in size is expected from Tuesday, increasing from 3-4ft in the morning upwards to 6ft+ late in the day with a bigger pulse Wednesday to 6-8ft+ through the day, with Thursday's W/NW swell seeing a bit of variation in size but coming in at 10ft across the marquee reefs.
Winds are looking great with gusty but favourable E-E/NE trades, strongest as the swell peaks on Thursday. More on this in the next update though.
North Shore Forecast Graph
North Shore WAMs
Micronesia: We should be seeing a fun pulse of N'ly groundswell breaking across our north facing reef passes with sets to 3-5ft, easing into this afternoon.
This swell will back off tomorrow from 3ft+ on the sets, smaller into Saturday.
We've then got some great and large pulses of N'ly groundswell due from Tuesday next week as the broad multi-centred storm off Japan is perfectly positioned in our swell window.
Also the more southerly fetch will generate a large and significant groundswell for Thursday.
Our first pulse of swell for Tuesday looks to come in at 4-5ft, building a little more into the afternoon with larger 6ft+ sets on Wednesday and then Thursday will be very solid and in the 8-10ft range on the sets.
Strong NE tending E/NE trades are expected through this period adding some tricky trade-swell to the mix, with weaker winds as the swell easing into Friday and the weekend.
Palikir Pass Forecast Graph
Palikir Pass WAMs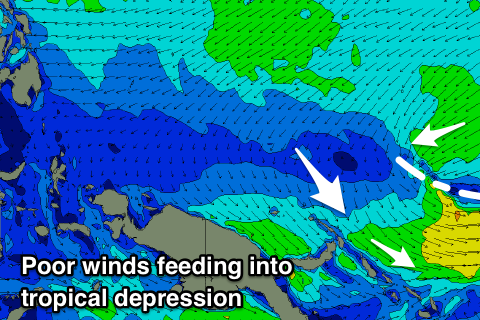 Papua New Guinea: We've currently got poor W/NW winds across the region owing to strengthening tropical activity associated with an active phase of the Madden Julian Oscillation.
We're likely to see a deepening tropical low to our east which will swing winds less favourable and around to the NW through the weekend and persist all of next week as it stalls.
This will unfortunately spoil building levels of NE trade-swell, but also the N'ly groundswell that's due to arrive through the middle of the week and peak next Friday/Saturday to 4-6ft across north swell magnets. Options for a good wave will be severely limited.