Tuesday, 13 March 2018
Slowing into the off season
Hawaii North Shore, Micronesia and PNG forecast by Craig Brokensha (issued on Tuesday 13th March)
Best Days: North Shore Tuesday, Wednesday and Thursday AM, Monday - Micronesia Friday and Saturday, PNG every day
This week and next (Mar 14 - 23)
Hawaii: Today a large to XL N'ly swell is breaking across the North Shore with gusty E/NE trades which have ease off into the evening.
The swell should of also started to ease later today and will continue to back off from the 6-8ft range tomorrow morning, if not for the odd bigger cleanup at magnets early morning.
Conditions should become better with gusty E'ly trades, more E/SE through Wednesday as the surf continues to drop, small Thursday.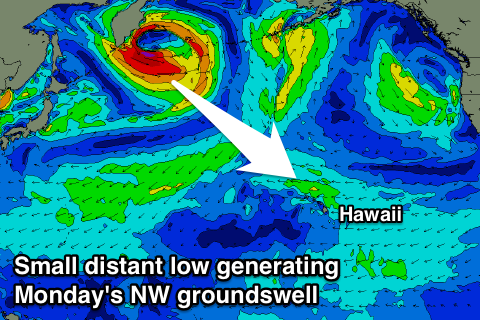 This swell was generated by a vigorous low forming off the Aleutian Island chain over the weekend, and since its weakened, there's nothing of not developing in our swell window.
Our next noticeable increase in swell is due from the NW early next week, generated by a strong but distant low forming off the Kamchatka Peninsula.
A small burst of W/NW gales should produce an inconsistent NW groundswell for later Sunday but more so Monday to 3ft to occasionally 4ft at magnets, easing through the day.
E/SE trades should create clean conditions while there'll also be some small NE windswell in the mix from a fetch of strengthening E/NE winds north of us.
Longer term there's nothing too major due for the rest of the week, though we may see some larger N/NW groundswell next weekend, but more on this Thursday.
North Shore Forecast Graph
North Shore WAMs
Micronesia: Small to moderate levels of NE swell are due over the coming week, and while winds are generally onshore for magnets picking up the most size, we're due to see more variable breezes from the south Friday.
This should open up some fun options with surf around 4-5ft on the sets, easing during the day and smaller into the weekend as variable breezes persist. Longer term there's nothing of significance at all on the cards unfortunately.
Palikir Pass Forecast Graph
Palikir Pass WAMs
Papua New Guinea: After the surf has eased out of the NE on the weekend, we've got some fun new NE trade-swell due to build late week and hold through the weekend.
The swell has been generated over the last few days by a good fetch of trades between Micronesia and Hawaii, with a slow increase due through tomorrow, further to Thursday the 3ft to occasionally 4ft range, holding a similar size Friday through Sunday.
Variable winds should create clean conditions until early next week when a W'ly kicks in as the swell fades.
Longer term there's nothing too major on the cards with small levels of background NE trade-swell to 2ft to occasionally 3ft.