Funky swell and winds for Hawaii, strong trade-swell for Micronesia and PNG
Hawaii North Shore forecast by Craig Brokensha (issued Tuesday 13th December)
Best Days: North Shore Wednesday and early Thursday, Saturday through Monday morning, protected breaks around Micronesia and PNG as the swell kicks
This week and next (Dec 14 - 23)
Hawaii: Nothing great over the last few days with the current blocking pattern across the North Pacific, but a distant NW groundswell has started to fill in today and should peak early tomorrow morning to an inconsistent 3-5ft across the swell magnets on the North Shore, smaller into the afternoon.
N/NE winds look to cause a few issues though, reverting back to E/NE trades on Wednesday as the NW swell becomes even smaller.
Some decent N/NE swell is due to replace the NW groundswell though, produced by a cut-off low to our north. A fetch of strong to gale-force N/NE winds are being aimed towards us, with a moderate sized N/NE swell due to peak Wednesday evening and then east off Thursday.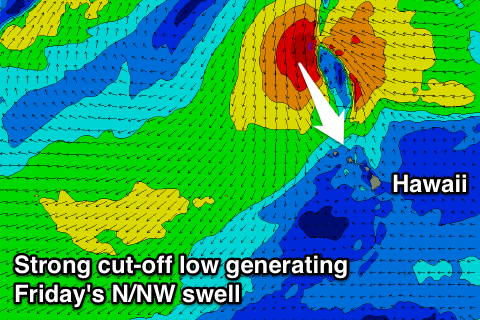 Exposed breaks to north swell should see 6ft sets, dropping back from 5-6ft Thursday morning as early light winds freshen from the west.
As talked about last update, a moderate to large NW groundswell is due Friday across the North Shore, generated by a broad but distant low that's currently formed off Japan.
An initial fetch of 30-40kt+ W/NW winds have generated a long-range and inconsistent pulse of W/NW groundswell for Friday morning, with a more consistent NW pulse into the afternoon from a weaker but broader W/NW fetch that's currently south-east of the Kamchatka Peninsula.
Our models are combining these two swells incorrectly (as well as a close-range N/NW swell discussed below) into the afternoon and over-forecasting the size, with inconsistent 6ft sets due through the morning, reaching 6-8ft into the afternoon, and then easing from a similar size Saturday morning, smaller Sunday.
Also in the mix though will be a consistent mid-period N/NW swell from another cut-off low forming to our north, projecting a sustained fetch of strong to gale-force N/NW winds directly north-west of us Thursday and Friday.
A raw N/NW swell should come in at a junky 8-10ft into Friday afternoon, easing from 8ft or so Saturday.
Unfortunately W/SW winds are due into Friday morning, freshening through the day as we fall under the influence of the cut-off low. More variable winds may develop into Saturday as the low weakens, but we'll have to review this Thursday.
Into next week, distant levels of moderate sized NW groundswell are due for the main part as the storm track remains further north and less than favourably aimed for our swell window. More on this Thursday.
North Shore Forecast Graph
North Shore WAMs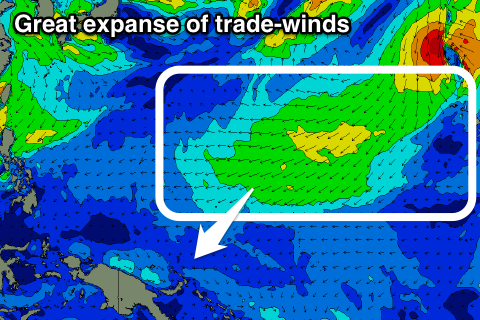 Micronesia: The blocking pattern responsible for Hawaii's poor run of surf is great for us as it is expected to generate moderate to large amounts of E/NE trade-swell across our region.
A near stationary high pressure ridge to our north and low pressure across the equator will see a broad and elongated fetch of E/NE winds established through our north-eastern swell window.
The swell should start building from tomorrow, reaching 4-5ft+ across exposed breaks by Friday before strengthening a touch more Saturday, backing off slightly Sunday.
A further increase to a consistent 6ft and more is due mid-next week before fading off slowly through the end of the week and weekend.
Along with this trade-swell will be fresh to strong E/NE trades, so spots picking up the size will be poor, and more sheltered breaks are the go.

Palikir Pass Forecast Graph
Palikir Pass WAMs
Papua New Guinea: The trade-swell impacting Micronesia will filter down from late week and should provide good sets to 3-4ft+ from Saturday through early next week, before strengthening a touch more Thursday.
The swell is only expected to start backing off from Saturday week, smaller into Boxing Day week.
Winds will take a slight tendency to the west from Thursday and strengthen from Saturday afternoon, persisting most of next week as a surface depression sits just north of us. Therefore you'll have to seek our protected breaks.