Large swell for Friday, moderate sized trade-swell for PNG and Micronesia
Hawaii North Shore forecast by Craig Brokensha (issued Thursday 1st December)
Best Days: Hawaii Friday through Sunday, selected breaks Wednesday afternoon through Friday week, semi-protected breaks Micronesia, PNG each morning
This week and next (Dec 2 - 9)
Hawaii: Tomorrow isn't looking that flash with a small mix of easterly trade-swell and background NW swell.
Our large and inconsistent NW groundswell for Friday is still on track, with the vigorous but distant low generating it now dissolved in the Aleutian Islands region.
The swell is due to peak through the middle of the day with 8-10ft sets on the North Shore, easing back through Saturday from 6ft+. The small to moderate reinforcing NW swell for Sunday is still on track, generated by a weak fetch of NW winds currently being aimed towards us.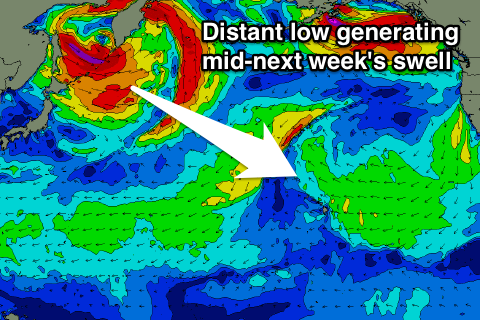 This should keep 4-5ft+ waves hitting the North Shore Sunday, fading into early next week.
E/SE trades are due to ease through Friday, tending more S/SE through Saturday with Kona winds Sunday and Monday with a passing surface trough.
The swell due through the middle of the week is looking fun, but very inconsistent, generated by another distant low off the Kuril Islands between Kamchatka and Japan.
The fetch will be strong but less than ideally aligned, with inconsistent sets building to 5-6ft into the afternoon, easing back from 4-5ft+ Thursday morning.
S'ly winds are expected to persist through Wednesday and Thursday with the trades returning from Friday.
Longer term there's nothing too significant at all on the cards as a large blocking high dominates our swell window.
North Shore Forecast Graph
North Shore WAMs
Micronesia: Moderate amounts of NE trade-swell seen across the coast today should ease back a touch tomorrow but still to an easy 4ft on the sets, smaller Saturday to 3ft to occasionally 4ft.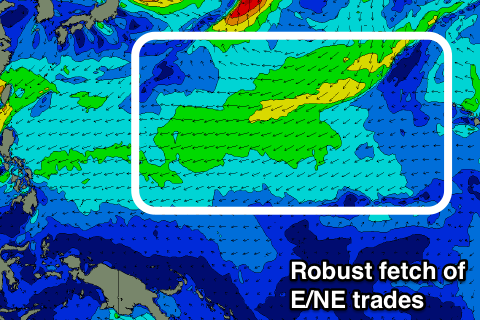 Sunday the N'ly groundswell and trade-swell should be coming in around similar sizes, but the trade-swell will be the more consistent of the two.
3-4ft sets are due with the N'ly swell easing into early next week.
Our larger pulse of NE trade-swell through early next week is still on track with the broad and established fetch of trades to our north-east expected to strengthen a little and widen in scope over the coming few days.
This should send a larger NE swell our way for Monday, building to 4-5ft+ into the afternoon and easing from a similar size Tuesday morning, dropping slowly the rest of the week.
A small inconsistent N'ly groundswell pulse is due mid-week but will probably be unnoticeable under the trade-swell.
The E/NE trades aren't expected to really back off at all through the period, persisting through until next weekend.

Palikir Pass Forecast Graph
Palikir Pass WAMs
Papua New Guinea: There hasn't been much change to the outlook with some fun N/NE trade-swell due from Friday in the 3ft range, muscling up to a stronger increase Wednesday and Thursday to 3-4ft, easing back from Friday.
The mornings will be best with light variable winds ahead of weak afternoon E'ly trades.