Large NW groundswells for the Pipe Masters
Hawaii North Shore forecast by Craig Brokensha (issued Tuesday 8th December)
Best Days: Every day over the coming period until the weekend (experienced surfers only later Tuesday, Wednesday and Thursday morning)
This week (Dec 8 - 11)
Well, what a weekend of waves! An XL swell pushed in from the Nprth Pacific lighting up the North Shore while also providing 15-20ft surf for the Pe'ahi Challenge.
The surf dropped gradually through the day and has continued to ease through today from 6ft+ this morning.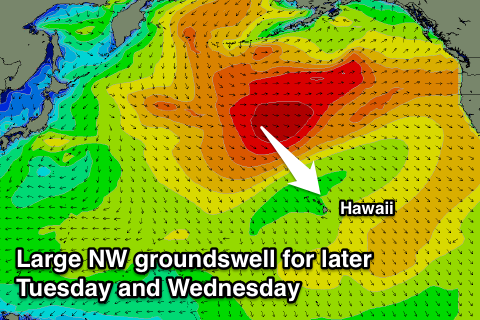 Tomorrow morning we'll fall in between swells but there should still be 4-6ft waves on offer through the morning ahead of a mix of moderate W/NW and larger NW groundswell into the afternoon.
The W/NW swell will be inconsistent and was generated off Japan in our far swell window, but a stronger and more vigorous front has since projected a fetch of severe-gale W/NW winds close towards Hawaii, generating a large and more powerful NW groundswell.
Both swells are due to arrive around the same time, and I feel the forecast models are over-cooking the peak in size across Hawaii as it incorrectly combines both the W/NW and NW groundswells.
In any case we're still due to see a large and powerful swell event, kicking strongly tomorrow afternoon, reaching the 12ft range late, peaking Wednesday morning to 12-15ft before tailing off into the afternoon.
The easing trend will be softened by a secondary reinforcing pulse of large NW groundswell from a embedded low on the backside of the storm producing a short-lived fetch of severe-gale to near storm-force W/NW winds.
This swell is due Thursday morning, keeping large 10ft+ sets hitting the North Shore before tailing off more noticeably Friday from 6-8ft.
Light E/NE trades are due to increase a touch tomorrow, becoming strong during the peak in swell Wednesday before slowly easing later Thursday and further into the end of the week and weekend while shifting E/SE.
Longer term, there's nothing significant due into the weekend, with the next considerable swell due to build Tuesday and peak Wednesday.
This will be a long-period but size limited swell, generated by a very strong low forming off Japan but tracking unfavourably north-east towards and then over the Aleutian Islands. As a result we're only expected to see inconsistent sets to 6-8ft maybe on dark Tuesday but more so Wednesday.
We'll have another look at this on Thursday though.