Large swells continuing across Hawaii
Hawaii North Shore forecast by Craig Brokensha (issued Mon 8th December)
Best days: Tuesday afternoon, Wednesday morning, Thursday, Friday, Saturday, Sunday
This week (Dec 9 - 12)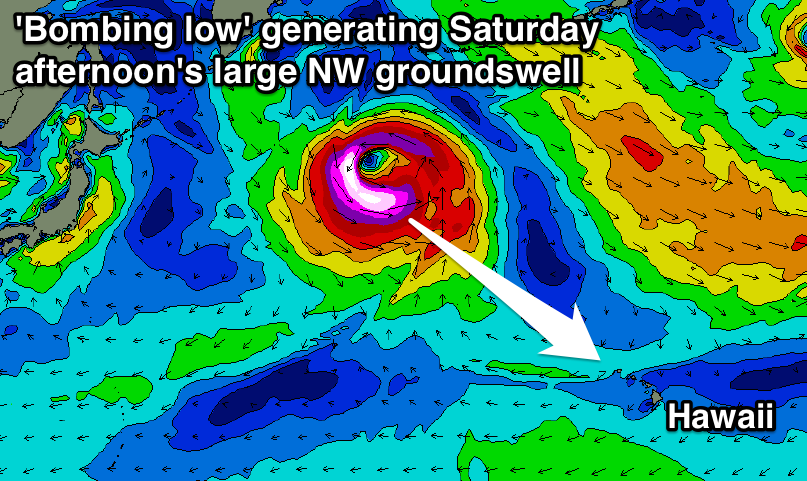 A very large and strong N/NW groundswell filled in yesterday and this has since eased into today from a solid 6-8ft+ this morning with light winds from the SE, and this bottomed out further through the day. A late pulse of really long-period N/NW groundswell showed across the region though and the NOAA Buoy right off Waimea registered 20s periods and a slight up kick in size.
These are the fore-runners of a large and strong N/NW groundswell due to peak tomorrow morning, generated by a deep and powerful Aleutian Low directing a fetch of severe-gale to storm-force W/NW winds towards Hawaii.
The North Shore should offer large 8-10ft+ sets tomorrow morning before easing off slightly into the afternoon. Winds look to be a little funky and from the west, but without much strength and becoming more variable into the afternoon.
Our larger pulses of NW groundswell are still on track for Wednesday and Thursday. These swells are being generated by a couple of vigorous cold fronts embedded in a broad and large low pressure system anchored over western Alaska, projecting a flurry of severe-gales very close to Hawaii.
The first frontal system will generated a large NW groundswell on its own merits for Wednesday but with the secondary front moving in quickly over the already active sea state, we'll see a secondary large kick in size overnight Wednesday and keeping large waves hitting the islands into Thursday.
Size wise we should see the North Shore increasing to the 15ft+ range during Wednesday afternoon and then easing steadily from a similar size Thursday morning.
Winds should be light from the E/NE Wednesday morning before fresh NE'ly breezes kick in, while Thursday looks great as fresh to strong E/NE trades develop.
Friday is probably the pick of the swell event though with an easing 8-10ft of NW groundswell and lighter E/NE trades, freshening from the NE through the day.
This weekend onwards (Dec 13 onwards)
At this stage early Saturday morning is looking to be a low point in swell activity before a very strong long-period NW groundswell arrives and builds strongly into the afternoon.
This swell will be generated by a 'bombing low' originating from Japan, with a relatively weak trough forecast to feed off a deep pool of cold air in the upper atmosphere resulting in a rapidly deepening low. With the central pressure dropping well over 24hPa in less than 24 hours, the system will generate a tight but extremely strong fetch of storm to hurricane-force W/NW winds towards Hawaii while tracking slowly north-east towards Alaska.
This will produce a large and powerful NW groundswell for Saturday afternoon kicking to 10-12ft+ across the North Shore by dark.
With the low maintaining a very strong fetch of NW winds within our swell window for 3 or so days, the swell will remain large into Sunday but easing slowly from 10-12ft while tending more N/NW in direction.
Strong E/NE trades are expected to kick in from Saturday and persist through early next week as the swell continues to ease.
Longer term we may see an XXL W/NW groundswell developing for the weekend of the 20/21st of December but more on this Tuesday.