Wednesday, 5 February 2020
Good S'ly swell tomorrow, with plenty more swell for next week
UNLESS YOU LIVE AT THE BEACH, PLEASE DON'T TRAVEL TO SURF
COVID-19 is changing the way we think about surfing. Travelling to the surf now means you're putting an unnecessary strain on the resources of small regional communities. So, please stay home. If you live near the beach and want to surf, please maintain a healthy spacing in the lineup, don't hang in the carpark, and keep your surf sessions shorter to allow others the opportunity to get wet. Above all, stay happy, healthy and look out for one another.
Eastern Tasmania Surf Forecast by Craig Brokensha (issued Wednesday 5th February)
Best Days: Keen surfers tomorrow and Friday AM, northern corners from Monday, southern corners Wednesday
Recap
The S/SE groundswell due across the coast yesterday and today looks to have come in under expectation with only 2ft surf reported. 3ft to occasionally 4ft sets were expected across south swell magnets later yesterday and today, easing tomorrow.
This week and weekend (Feb 6 - 9)
As the S/SE groundswell fades tomorrow, it'll be replaced by a stronger and better but more directional S'ly groundswell, produced by a strong polar low that moved through our southern swell window the last couple of days.
The swell is expected to peak tomorrow to a good 3-5ft across south swell magnets, smaller elsewhere, easing into the afternoon and from 2ft to maybe 3ft Friday.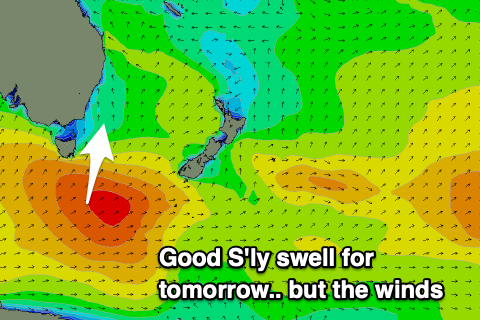 Winds tomorrow unfortunately still look average, possibly variable S/SE early, increasing from the E and tending E/NE through the afternoon, S/SW tending fresher SE Friday. This will unfortunately limit surfing options with size and clean conditions.
Moving into the weekend conditions will be poor with a low point in swell Saturday and fresh S/SE tending SE winds along with a building windswell.
This will be linked to a broadening and deepening fetch of easterly winds developing off the East Coast as a mix of coastal and inland surface troughs squeeze a strong high in the Tasman Sea.
This is still quite a dynamic setup with the models not in alignment on the developments through next week, but we should see a strengthening and southward growing fetch of strong E/NE winds through our swell window.
This should produce building levels of E/NE swell from Sunday, steadily and slowly growing next week with persistent onshore E'ly veering NE winds with a possible S'ly change on Tuesday/Wednesday.
Size wise we'll see at least surf to 3-4ft or so, but likely becoming bigger later next week and beyond with a secondary E/SE swell event. More on this when the models come more into alignment Friday.