Small NE swell to end the week
Eastern Tasmania Surf Forecast by Guy Dixon (issued Wednesday 14th October)
Best Days: Thursday, Friday and Saturday
Recap:
A small inconsistent southerly swell gave rise to clean 1-1.5ft peaks under a northwesterly breeze on Tuesday morning. The offshore breezes eventually succumbed to a northeasterly seabreeze by mid-morning resulting in the decline of surface conditions.
This morning brought slightly more energy, with sets in the 2ft range at the magnets further north. Conditions were clean early under a light north/northwesterly breeze, losing quality as winds tended north/northeasterly in the mid-morning.
This week (Thursday 15th - Friday 16th):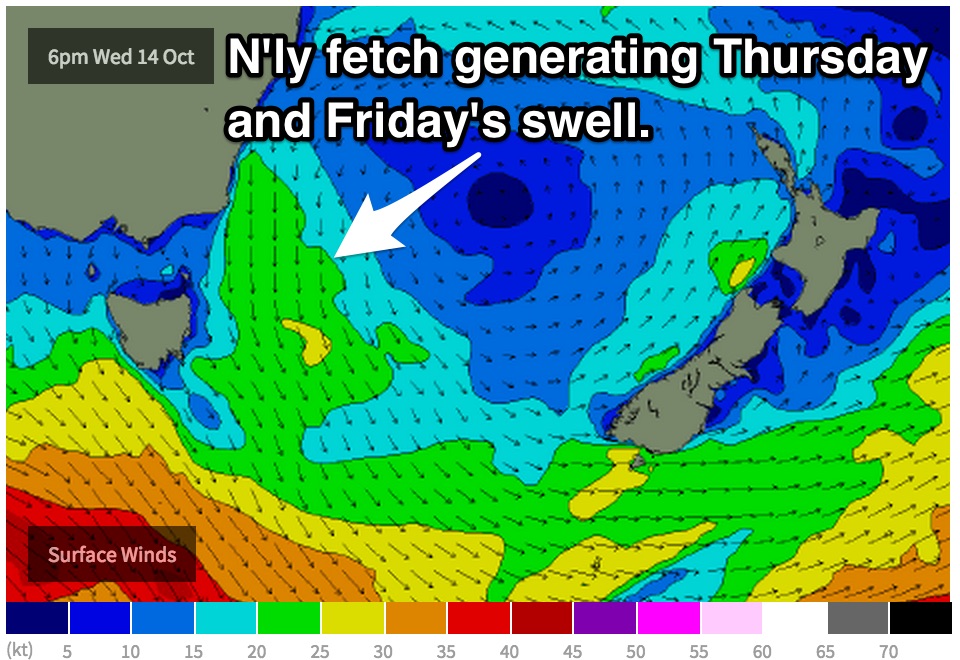 Despite frontal activity moving to the south of Tasmania overnight and in the coming days, the poor alignment of these fetches will mean that the North East coast will virtually miss out on any southerly energy altogether.
Instead, we look to the northern swell window for the best chance of any size.
A northerly fetch is currently becoming established over western parts of the Tasman Sea as the pressure gradient tightens between a strong ridge of high pressure and an approaching front. This northerly airflow is likely to whip up a short range northeasterly wind swell, causing the surf to build to the 2ft range on Thursday, largest at the open beaches.
The effects of this northerly fetch will continue to be felt on Friday, easing to the 1-2ft range by the afternoon.
Moderate/fresh northwesterly winds are likely to dominate the coast on both days leading to workable conditions.
This weekend (Saturday 17th - Sunday 18th):
The aforementioned pressure gradient responsible for the northerly fetch will break down as a cold front moves across the region.
Southwesterly fetches associated with this system are likely to be broad and strong, however their alignment remains poor. Sure, they will make a hell of a disturbance in the southern Tasman, however we will be forced to rely on sideband energy for any sort of surfable swell.
Saturday should only see undersized 1-2ft peaks at south facing beaches off this system under a westerly breeze. As for Sunday, the surf is likely to be undersized once again with the morning offering the best chance of an offshore breeze.
Next week (Monday 19th onward):
A second small west/southwesterly fetch will follow closely in pursuit maintaining swell in the 1-2ft range at south facing beaches for Monday, likely weak and uninspiring. Gusty northerly winds will dominate limiting options to the protected northern ends, fortunately this is where most of the size will be showing up.
A ridge dominate over the Tasman on Monday and Tuesday, however it's effects will be subtle. The pressure gradient will be less intense as today's and the resulting northerly fetch will be weaker.
Nevertheless, we hope for tiny dribbles of northeasterly winds swell throughout Tuesday and Wednesday preceding a gusty southerly change.