Fading SE swell, average S'ly swell next week
Eastern Tasmania Forecast by Craig Brokensha (issued Friday 29th May)
Best Days: Early Saturday for the dying SE swell, Tuesday morning, Wednesday morning
Recap
Good fun but inconsistent SE groundswell yesterday under offshores, while a secondary less consistent pulse due today has come in a little under expectations.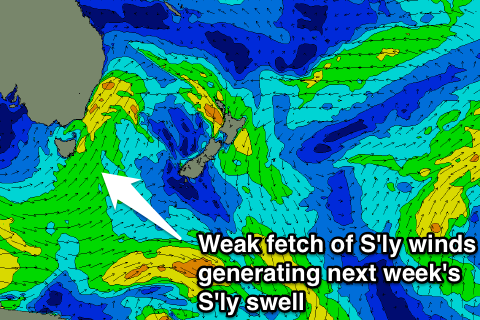 This weekend and next week (May 30 – Jun 5)
There may still be the odd 1-2ft set lingering out of the SE tomorrow morning, but you'll want to be in the water at dawn, before it fully fades away.
Into next week we've got some new S'ly swell due to build through Monday and persist Tuesday, generated by a relatively weak frontal system pushing up and past us during the day Monday. Once the front pushes up past us, it will become absorbed into a broader low pressure system stalling over near New Zealand, continuing to generate a fetch of strong S'ly winds in our swell window.
This should see south facing beaches building to 3ft through Monday afternoon and persisting at a similar size Tuesday but with winds from the south-western quadrant, which isn't ideal.
As the low moves slowly to the east during the middle of next week, we should see the S'ly swell ease away (probably from 2-3ft Wednesday), but a small fetch of SE winds lingering off the tip of the South Island Thursday may generate a fun E/SE swell for us the following Saturday. There may be some S/SE swell pulses in between Wednesday and Thursday from sustained polar frontal activity in our swell window, but the models are still divergent on this.
We'll have a closer look at this on Monday though. Have a great weekend!