Poor conditions until Monday
Eastern Tasmania Forecast by Craig Brokensha (issued Wednesday 3rd December)
Best Days: Monday morning
Recap
Yesterday was good through the morning with a clean easing E/NE swell from 2-3ft across open beaches, with the odd bigger one at exposed breaks.
This morning a reinforcing NE windswell didn't really keep waves up around 2-3ft, with smaller 1-2ft surf seen across most breaks.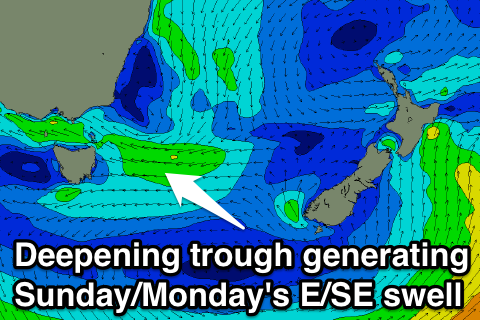 This week and weekend (Dec 4 - 7)
Tomorrow is expected to be small and poor with fresh to strong E/SE tending SE winds as a new surface trough drops off the New South Wales coast and drifts south.
A fetch of strong E/SE tending SE winds should kick up a weak windswell, coming in at junky 2ft+ across open beaches Friday and Saturday morning. Winds will remain poor into Friday though and onshore from the S/SE.
Before the SE swell really gets a chance to ease another stronger and broader trough is expected to push down from the north, aiming a better fetch of strong E/SE winds towards us.
This should kick up larger levels of E/SE swell through Sunday, peaking Monday to 3ft+ or so across open beaches.
Winds will continue to be poor from the S/SE Saturday and then SE Sunday, but as the trough drifts south early Monday, we should see winds swing offshore. This will be the day to surf!
Beyond this we should see fun levels of E'ly swell continuing for the rest of the week, but more on this Friday.