Tuesday, 11 September 2018
Good persistent swells, with a couple of larger days in the mix
Bali and Mentawais forecast​​​​​​ by Craig Brokensha (issued Tuesday 11th September)
Best Days: Locations you wouldn't usually hit in the peak season over the coming days, back to the marquee reefs from the Friday/the weekend
This week and next (Sep 12 - 21)
Bali: The swell due late last week, and into the weekend unfortunately came in under forecast expectations which is a little puzzling as most other swells this year have been bang on. The timing was perfect but the size not so.
Into this week, a new S/SW groundswell kicked later yesterday, peaking today with good sets to 6ft+ on the magnets.
This is the first in a series of groundswells due this week, with a secondary reinforcing S/SW groundswell due to fill in tomorrow, produced through the start of the weekend by a zonal fetch of severe-gale to storm-force W'ly winds late in our swell window.
It should be noted that the Wave Watch model is mostly over-forecasting the expected sizes across the region this period as it incorrectly combines easing swell energy with the new incoming swells.
But back to tomorrow, and the new swell will be very south and hopefully 6ft to occasionally 8ft sets across south magnets (smaller on the Bukit) through tomorrow (peaking into the afternoon) before easing Thursday.
We'll then see the larger and better aligned S/SW groundswell filling in later Thursday, peaking overnight and easing Friday.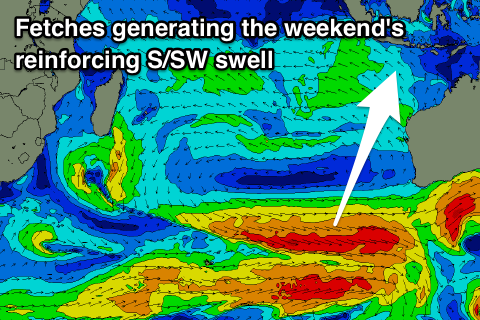 This swell was generated by a better aligned polar frontal progression developing in the Heard Island region over the weekend, with a broad fetch of W/SW-SW gales creating an active sea state for a secondary front to piggy-back over, projecting more towards us.
The swell will arrive through Thursday afternoon and build late in the day though only likely to 6ft on dark, if not a touch bigger, with Friday morning seeing better sized sets to 8ft, easing back steadily through the day and smaller into Saturday.
Into later Saturday and more so Sunday some reinforcing S/SW groundswell is due, generated by another less than favourably aligned but broad and elongated fetch of W'ly gales that are currently south-west of WA.
We're looking at exposed breaks kicking back to 6ft+ on Sunday, while an additional polar fetch of severe-gale SW winds projecting up towards WA on the tail of the progression should produce a similar sized steadying swell for Monday morning, easing into the afternoon and further Tuesday.
Longer term a very strong polar storm is forecast to develop in the Heard Island region, with a fetch of severe-gale to storm-force winds moving slowly through our swell window and up towards WA through the weekend.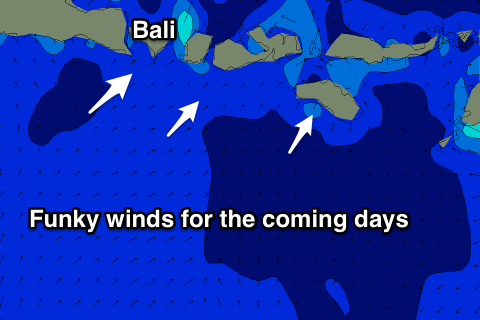 A large long-period S/SW groundswell is due off this low, arriving mid-next week and providing 8ft+ waves across south swell magnets. We'll confirm this on Thursday though.
Looking at the local winds and we've got a funky couple of days ahead, variable each morning, but likely SW through Thursday as a tropical depression moves through the area, swinging back to the SE on Friday.
We'll then see E/SE trades kick back in through the weekend.
16 day Bali Forecast Graph
16 day East Java Forecast Graph
16 day Sumbawa Forecast Graph
Ments: We should be seeing some new acute S'ly swell building across the region today and reaching 4-5ft+ across south magnets, easing back a little through tomorrow.
The larger S/SW groundswell due later week across Bali will arrive through Thursday afternoon and likely reach 6ft+ by dark, with Friday morning possibly seeing the odd 8ft set at magnets ahead of an easing trend into the afternoon, smaller Saturday and early Sunday.
Winds will pick up again from the SE-S/SE becoming gusty through the coming period limiting the best waves to more protected spots, away from the bulk of the incoming swells.
Reinforcing S'ly swell energy for Sunday doesn't look to offer much size, with sets to 4-5ft out of the south, easing back through Monday and Tuesday.
The larger swell on the cards for mid-week will be generated fairly favourably in our southern swell window and should produce easy 6-8ft waves, but we'll review this Wednesday.
16 day Mentawai forecast graph
16 day Nias forecast graph
16 day South Sumatra forecast graph