Fun swells this week, more serious from the weekend
Bali and Mentawais forecast​​​​​​ by Craig Brokensha (issued Tuesday 10th July)
Best Days: Wednesday, Saturday, Sunday onwards experienced surfers
This week and next (Jul 12 - 20)
Bali: Coming in cold off recent annual leave it appears there should be some new long-period S/SW groundswell energy due later today and into tomorrow morning, followed by a secondary pulse for the afternoon, easing Thursday.
Not knowing where these swells were generated, but seeing the size across Margaret River the last couple of days, especially today with good fun 4-5ft sets, we can expect similar sized surf across magnets into later today, tomorrow and early Thursday.
Fresh and gusty E/SE trades are due over the coming days, lighter and more variable early each morning with local land breezes, relaxing a little into the weekend but taking a slightly more SE bias.
The surf is due to bottom out temporarily through the day Friday ahead of a late increase in new mid-period SW swell that will peak Saturday. This was generated the last two days by a relatively weak mid-latitude front well north of the Heard Island region.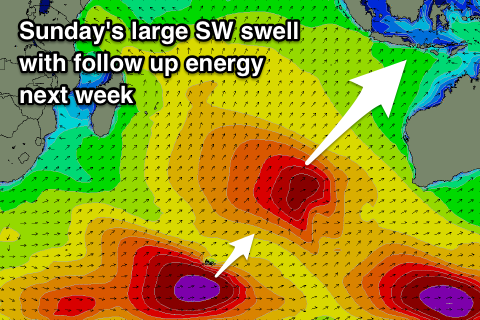 The direction is good, with sets to 4-5ft+ due Saturday across magnets before giving into a much larger and stronger groundswell on Sunday.
Sunday's swell is great, with it being generated by a strong and slow moving mid-latitude front that formed south-east of South Africa yesterday.
We're seeing a slow moving fetch of gale to severe-gale W/SW winds generated through our south-western swell window, with a low pressure centre due to form, resulting in a core winds reaching near 50kt as the storm continues east towards Western Australia.
The slow movement and sustained nature of the storm will result in a large long-period and consistent SW groundswell that should arrive overnight Saturday and peak through Sunday (most likely afternoon) to a strong 10ft on the sets, with the south-west direction lighting up the Bukit reefs.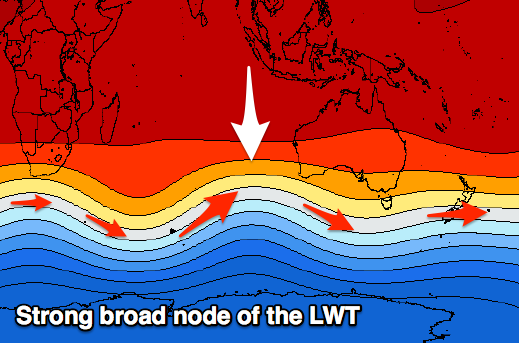 Sunday's swell should ease back into Monday and further Tuesday morning ahead of back to back large pulses of long-period S/SW groundswell.
We're set to see a flurry of vigorous frontal activity through the Southern Ocean originating from west of Heard Island and focussing south-west of WA owing to a strong node of the Long Wave Trough moving slowly through the region.
The models are still coming to terms with each seperate storm, but in short we're set to see back to back to back fronts generating severe-gale to storm-force winds on active sea states, generating large back to back long-period S/SW groundswells from later Tuesday through the end of next week.
Size wise we're looking at swells in the 8-10ft range with a couple of larger days likely, but check back here Thursday for more specifics.
16 day Bali Forecast Graph
16 day East Java Forecast Graph
16 day Sumbawa Forecast Graph
Ments: We're seeing easing levels of weak mid-period S'ly swell across the region today, but those small long-period SW groundswell pulses should provide some new energy tomorrow, hopefully coming in at 4ft on the sets across magnets tomorrow, with the rare bigger one Thursday morning.
The mid-period SW swell is due to arrive Friday across our region and kick wave heights back to 4-5ft+ through the afternoon, from a smaller 3-4ft in the morning.
Variable winds are due over the coming days, tending SE into Friday and being moderate to sometimes fresh through the weekend and most of next week as a strong stubborn high sits across most of the Indian Ocean, squeezed by more localised tropical depressions.
We may see winds relax later next week, but we'll look at this in closer detail on Thursday.
Coming back to the large groundswells, and Friday's increase in mid-period energy is expected to ease slowly Saturday ahead of a late kick in the new long-period SW tending S/SW groundswell.
We should see sets kicking to an easy 6-8ft later in the day ahead of a peak Sunday morning to 10ft on the sets at exposed south facing breaks.
A slow easing trend should be seen through Sunday afternoon, further Monday and into early Tuesday ahead of the first pulse of long-period S/SW groundswell.
As explained above, the flurry of stormy activity through the south-east Indian Ocean will be better aimed towards Bali, with the swells coming in from a more southerly direction and with a bit less size around our region.
Tuesday/Wednesday's S/SW swells look to be in the 6-8ft range, with a possible larger more south swell late week upwards of 8ft, but check back on Thursday for more on this.
16 day Mentawai forecast graph
16 day Nias forecast graph
16 day South Sumatra forecast graph