Large swells Thursday and over the weekend, slower next week
Bali and Mentawais forecast​​​​​​ by Craig Brokensha (issued Tuesday 1st August)
Best Days: Every day over the coming period in Bali, protected spots in the Ments Wednesday and Thursday morning, exposed breaks for the rest of the period
This week and next (Aug 2 - 11)
Bali: Thursday's swell slowly built into the afternoon, but as expected it wasn't big enough to run the Rip Curl Padang Cup. Friday morning still saw large sets across exposed breaks, easing through the day and back smaller into Saturday.
We should of seen a new S/SW groundswell fill in later Sunday and peaking yesterday across the island. The swell is still pumping this morning but on a slow easing trend with smaller waves due into tomorrow ahead of Thursday's oversized S/SW groundswell.
This swell now looks to be the larger of the two due over the coming period, with a vigorous polar frontal system forming west of Heard Island producing a fetch of severe-gale W'ly winds before projecting north-east towards Western Australia over the weekend.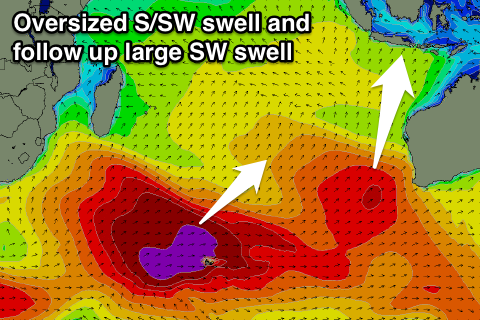 The swell will have a fair bit of south in it, and again this looks to be the limiting factor for Padang Padang with it only due to hit the 5-6ft range when the swell peaks through the day Thursday. Exposed breaks should offer large 10ft+ waves, but strong SE trades to Bali's south will also generate moderate amounts of mid-period S'ly swell.
This is contaminating the model forecasts for the region, with wave heights being over-forecast.
We should see the S/SW swell easing back through Friday from the 8ft range across exposed breaks, smaller into Saturday morning.
SE trades are due over the coming period, lighter and more variable early morning. We should see winds tend back more E/SE into the weekend and with this the S/SE trade-swell will also drop away.
Our large long-period SW groundswell for Saturday is still on track, but the vigorous polar low linked to it weakened a little earlier that forecast late last week. This has resulted in a slight downgrade of the swell, with it due to arrive later Saturday, peaking Sunday morning.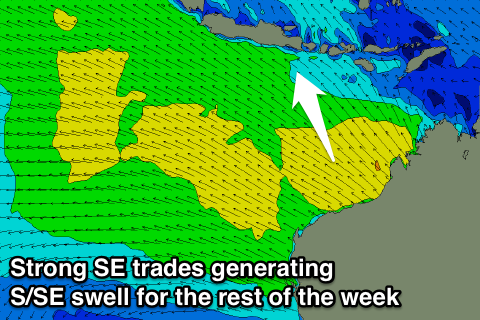 Exposed breaks should see large inconsistent 8ft sets when the swell peaks Sunday morning, with Padang again falling short of the size needed to run the event.
From here the swell will slowly ease into next week, with background S/SW groundswell energy failing to see exposed breaks drop below 4-6ft.
We may see a moderate sized S/SW swell late week and into the following weekend, but more on this Thursday.
16 day Bali Forecast Graph
16 day East Java Forecast Graph
16 day Sumbawa Forecast Graph
Ments: A large swell seen yesterday morning has since eased, with solid waves still on offer this morning with fresh E/SE-SE winds. This is limiting surfing options with the S'ly swell direction.
Tomorrow the groundswell will become smaller but moderate amounts of S/SE trade-swell will be breaking across exposed breaks, persisting through the rest of the week.
Sets are due to come in around 4-5ft, if not for the odd bigger one, but with SE winds tomorrow and Thursday morning, more variable into the afternoon.
We've got the same issue with the models for the Mentawais as we do for Bali with it incorrectly combining the swells.
We should see exposed breaks reaching 8ft+ through the day, easing off slowly through Friday from 6-8ft.
Winds should remain variable through Friday and Saturday morning before taking a slight N/NW tendency into the afternoon and through till Tuesday.
This will be along with the new large SW groundswell for Saturday with sets due to reach a large and powerful 8ft through the afternoon before tailing off slowly into next week.
Smaller background S/SW swells are due through most of next week, but more on this Thursday.
16 day Mentawai forecast graph
16 day Nias forecast graph
16 day South Sumatra forecast graph