Tuesday, 13 June 2017
Oversized S/SW swell due late week
Bali and Mentawais forecast​​​​​​ by Craig Brokensha (issued Tuesday 13th June)
Best Days: Every day this coming period across Bali, more protected spots Thursday across the Ments
This week and next (Jun 14 - 23)
Bali: Inconsistent SW groundswell energy filled in yesterday across the islands, holding into this morning, but we should see the swell drop from later today, a touch smaller into tomorrow but still providing 6ft sets at magnets.
Our attention then shifts to the large and powerful S/SW groundswell event due into the end of the week.
Over the weekend we saw a significant storm that was impacting South Africa, drifting south-east into the Southern Ocean and re-intensifying in the Heard Island region.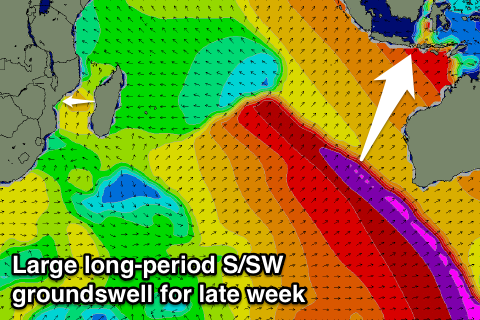 A vast and sustained fetch of storm-force W/SW winds were generated in our far southern swell window, followed by a more northern and closer fetch of severe-gale W/SW winds on top of the active sea state generated before it.
This has resulted in an oversized and powerful S/SW groundswell event, with the swell due to fill in Thursday afternoon, building to an inconsistent but strong 10ft on the sets by dark, persisting Friday in the 10ft+ range on the sets.
From late Friday and more so Saturday the swell will drop away, further into Sunday and Monday.
Fresh and gusty E/SE trades are expected over this period, favouring the Bukit reefs with more variable winds early each morning.
Into next week besides some small to moderate S/SW groundswell pulses there's nothing major on the cards. These pulses due for Tuesday and Thursday respectively are being generated by less than favourably aligned fetches of pre-frontal W/NW gales.
We should see pulses back to 4-5ft across swell magnets Tuesday morning and Thursday morning as E/SE trades ease off a touch.
Longer term we may see a moderate sized S/SW swell for next weekend, but more on this Thursday.
16 day Bali Forecast Graph
16 day East Java Forecast Graph
16 day Sumbawa Forecast Graph
Ments: Similar to Bali, our inconsistent SW groundswell that's currently breaking across the islands is expected to drop back temporarily into tomorrow morning ahead of the first pulse of long-period inconsistent S/SW groundswell Thursday and secondary pulse Friday.
We should see the first pulse building to the 8ft range on the sets Thursday, while Friday's secondary swell looks to come in around a similar size before easing back into Saturday, further Sunday.
Winds look light and variable for the most part although a fresher SE breeze may be seen Thursday morning.
Into next week, the S/SW swells impacting Bali will form too late for the Mentawais, with some other inconsistent S/SW groundswell kicking wave heights back to 4-5ft Wednesday before easing slowly into the end of the week.
16 day Mentawai forecast graph
16 day Nias forecast graph
16 day South Sumatra forecast graph