Tuesday, 31 May 2016
Large swells to continue with light winds
Java, Bali, Lombok, Sumbawa forecast by Craig Brokensha (issued Tuesday 31st May)
Best Days: Wednesday, experienced surfers from Thursday through Monday morning, Tuesday and Wednesday morning ahead of possibly a very large swell later in the day / Thursday
This week and next (Jun 1 - 10)
Through yesterday a large and powerful new SW groundswell filled in across the islands, captured here during the morning before it really muscled up into the afternoon.
This swell should of held in the large range through this morning, with a slow easing trend due through the day.
A further drop in size should be seen through tomorrow down from 6ft+ across exposed breaks. Moderate to fresh E/SE trades are due, lighter and more variable each morning.
There won't be much downtime between swells across the region though as another larger pulse of SW groundswell arrives through Thursday.
This swell was generated over the weekend and into yesterday by a vigorous polar frontal progression through the southern Indian Ocean (in a similar area to where the current swell was produced). Satellite observations confirm 50-60kt W/SW winds generated through our swell window along with open ocean seas up to 42ft.
We'll see the long-period fore-runners arrive through Wednesday at around 22s, with a late increase in size visible, with the groundswell proper filling in Thursday and reaching a strong and dangerous 10ft to possibly 12ft across exposed breaks during the afternoon.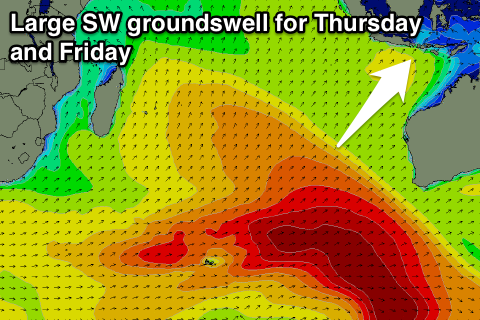 This swell will ease back slowly from the 10ft range Friday morning, further Saturday but slowed by a reinforcing pulse to an easy 6-8ft into the afternoon.
Sunday should see a more defined pulse of new S/SW groundswell from a strong polar frontal system currently firing up north of Heard Island and this should keep wave heights up around 6-8ft, easing slowly into Monday and Tuesday.
Coming back to the conditions from Thursday onwards and trades are due to really weaken and tend variable Thursday and Friday with a weak SE tendency into the afternoons from Saturday.
Longer term we're looking at possibly the largest swell so far this season developing in the Southern Ocean and projecting ideally up towards us, but check back here on Thursday for more on this.
16 day Bali Forecast Graph
16 day East Java Forecast Graph
16 day Sumbawa Forecast Graph