Thursday, 21 April 2016
Fun swells ahead of a larger more consistent pulse Wednesday
Java, Bali, Lombok, Sumbawa forecast by Craig Brokensha (issued Thursday 21st April)
Best Days: Every day over the coming period (biggest Sunday and Wednesday)
This weekend and next week (Apr 22 - 29)
During this afternoon the first of three groundswell pulses generated in a similar area between Heard Island and South Africa are due. Exposed breaks are due to reach an inconsistent 4-5ft across Bali, easing back slowly from 3-5ft tomorrow morning.
Into Saturday a new reinforcing pulse is expected, allowing the swell not to drop below 4-5ft, while Sunday's stronger S/SW groundswell is still on track, kicking later Saturday and offering better 6ft sets across exposed breaks during the morning.
This swell should ease into the afternoon, further down into Monday.
The final pulse of swell will be more from the SW Tuesday, providing inconsistent but good 4-6ft sets again across swell magnets, produced by a slightly more northern tracking polar front.
Expect this swell to ease into the afternoon.
Now, E/SE trades are due to strengthen into tomorrow and remain so through until Monday before weakening into the remainder of the week. Early morning variable winds are due, but this is less likely tomorrow morning.
As talked about last update, a new more consistent and larger S/SW groundswell is due from a tricky but strong and powerful mid-latitude low firing up south-west of WA.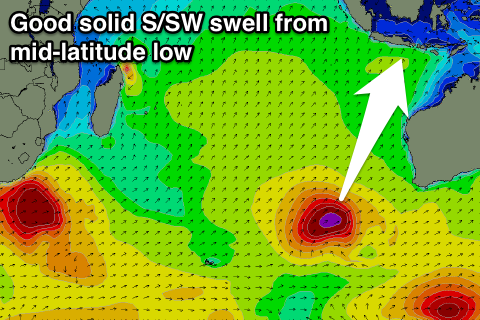 This should project a fetch of severe-gale to storm-force S/SW winds up towards us through the weekend, producing a large S/SW groundswell for Wednesday peaking to 6ft to occasionally 8ft across exposed breaks.
This swell will ease into Thursday and Friday, while a secondary weaker polar front pushing up on the tail of the low should generate a new S/SW groundswell pulse for Saturday but only in the 4-6ft range.
Longer term there's indications of some stronger polar frontal activity through our swell window, boding well heading into May, but more on this in the next update.
16 day Bali Forecast Graph
16 day East Java Forecast Graph
16 day Sumbawa Forecast Graph