Tuesday, 2 September 2014
Small week ahead, much more active next week
Java, Bali, Lombok, Sumbawa forecast by Craig Brokensha (issued Tue 2nd Sep)
Best Days: Exposed spots the coming week and weekend, every day next week
This week and weekend (Sep 3 - 7)
The surf's been slowly dwindling away the last few days but variable winds each morning have provided better options at exposed spots.
We'll continue to see the surf dip away over the coming days, bottoming out Thursday and Friday to a very inconsistent 2-3ft at exposed breaks. The trades should remain generally light, with variable winds each morning opening up exposed locations for business.
Over the weekend a small increase in long-range S/SW groundswell is due, filling in Saturday and then holding Sunday morning to a very inconsistent 3-4ft+ at exposed locations.
E/SE trades will kick up a touch during Saturday afternoon and further into Sunday.
Next week onwards (Sep 8 onwards)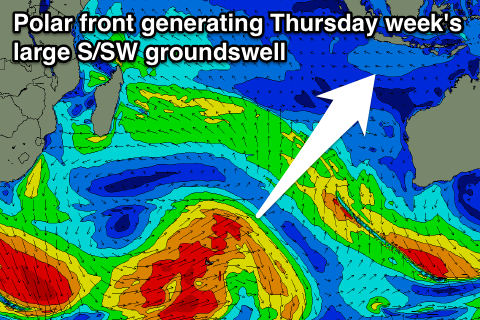 The outlook is looking much better for next week as a new node of the Long Wave Trough moves through the Southern Indian Ocean during the end of this week, bringing with it a series of strengthening polar fronts.
An initial system that's currently north-west of Heard Island should produce a fun long-range SW groundswell for later Monday and Tuesday morning to a very inconsistent 5-6ft across exposed breaks.
Behind this a funky but strong trough drifting east will generate a secondary swell for later in the day and Wednesday morning keeping 6ft sets hitting exposed spots.
A much larger and more powerful pulse of S/SW groundswell is due late Wednesday, peaking Thursday though as the LWT steers a broad and powerful polar front from the Heard Island region up towards WA through Friday, Saturday and Sunday. A broad fetch of SW gales will set in motion a large S/SW groundswell that should peak in the 8-10ft range across exposed breaks in Bali.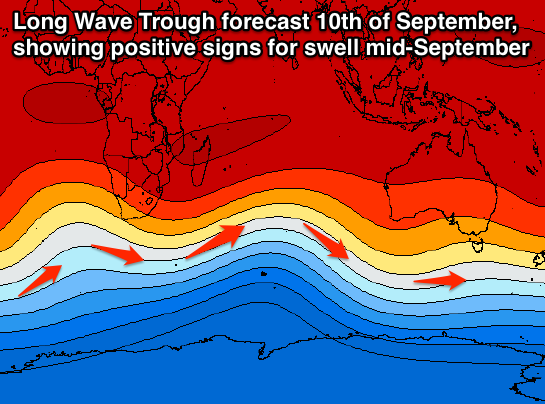 Winds should ease back through next week with moderate to fresh E/SE trades that are likely to be variable in selected regions each morning.
Longer term the models are still shifting around regarding a large swell for the middle of September. All indications are good for a stronger node of the LWT moving in around the 10th of September (right), but we'll have to review this again on Thursday.
16 day Bali Forecast Graph
16 day East Java Forecast Graph
16 day Sumbawa Forecast Graph