Campbell Wilson: On homosexuality and challenging surfing's status quo
Wednesday, 20 November 2013
Swellnet: What is your role in 'Out In The Line-up?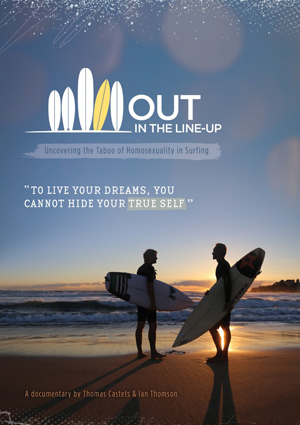 Campbell Wilson: My role is the Editor of the film.
How long have you been involved in the project?
Since February 2011.
Most importantly, why did you get involved?
I thought it was an interesting concept right from the start. It challenged me. I've worked on a lot of surf films in my 18 year career; with Tim Bonython, Jack McCoy, Storm Surfers 3D, as well as Ra, Quiksilver and Rip Curl TV shows. So I've had a lot experience with surfing productions and I'd never heard of gay surfers before. ... this is a common comment in the film as well.
When I met Thomas [Castets - Producer of Out In The Line-up] at the screening of a surf film I had been working on, he shared his vision of gaysurfers.net and the interesting stories of the gay surfer community that was rapidly building online. He asked me to help produce some videos for his website then document their journey marching in Mardi Gras. I thought the film was an important social doco rather than a surfing doco and a worthy conversation to put out there.

Whenever I post information about Out In The Line-up there's the obligatory comment, 'I don't talk about my sexuality in the surf, why do they feel the need to talk about theirs'. So why talk about it? Indeed, why make a film about it?
I think many people would like to be able to talk about it but are too scared because of fear of ridicule and threat of being ostracised, whether you're gay or not. As a society we're very quick to judge and label. It's certainly been one of the main challenges of making this film. If we put in all the stories that we can't tell, it would blow people's minds. It's been fascinating seeing the comments from the various surfing community groups online when our trailer went up. Some very aggressive and abusive while others with similar questions like, "What does being gay have to do with surfing?" We interviewed a famous surf journalist and he said in the film, "What does homosexuality have to do with life? You cant isolate surfing from life... just because you're a surfer doesn't mean that's all you talk about..."
I think the tag line of our film could just as easily say "The Taboo of Homosexuality in Society". It's a topic that some people find awkward discussing and the surfing world is no different. It's not like a guy needs to paddle out and announce he's gay to the line-up, but this film is important for the one-tenth of the community that is gay and for those that are struggling with finding their place in the world, when surfing is also a part of that world.
The film challenges stereotypes of both what being gay is and what being a surfer is. There's a scene where Thomas is driving to a WCT event and he's trying to get interviews and he's like "If it's not a problem, then why doesn't anyone want to talk about it!"
So why make this film? You know, why make a film about anything? Film is a powerful medium for expression, challenging status quo and having a voice. And for many people this is an important film to share their story that hasn't had a place until now. There are surfers, professional and in general, dealing with mental illness, turning to drugs, and even committing suicide because they're feeling stuck. This film is important to put these issues into the spotlight and stop sweeping them under the carpet.

OK, controversial question time! Are surfers better or worse than the general public in accepting differences in people?
I don't think you can sum up a surfer as any one type, just as you can't generalise the public. There are strong and opinionated people in both worlds. Normally it's the passionate few that speak up, so it's not reflective of the whole community. I think we have a long way to go with regards to accepting differences in all aspects of life. The issue of homophobia needs to be discussed as long as there are people still suffering. One thing that did come up however while researching the film is that gay male athletes are starting to come out in a number of sports: Rugby, League, Soccer, Boxing, NBA...and yet we haven't seen that in men's pro surfing yet. It is a healthy question to ask why.

Why have so few gay surfers come out?
It depends on whether you're talking about general or professional surfers. You know, surfing traditionally has been a macho sport with its own set of rules and conduct. As a grommet you quickly learned your place and even now in some locations surfers are very protective of their spot, so you have to be on guard. It's not like any other sport in that regard. So being different is also a risk. Verbal slurs such as 'ah, ya poof' or 'ya faggot' have been commonplace in surfing if you're not up for charging a solid set wave, just like 'this is so gay' for anything pathetic. So for any person challenged by their sexuality, this would be pretty confronting and best to keep quiet.
In professional surfing there's more at stake. Like any professional athlete, you're lifeline is your sponsor and in surfing there is a marketed stereotype image that is seemingly holding everything in place. The risk expressed by some is that you risk losing it all if you come out. Out In The Line-up drops you right in the middle of these discussions with current and ex-pro's.

What do you hope to achieve by making Out In The LIne-up?
For me, it's a way of starting an important conversation. I think Thomas' vision for the film is to promote more openness and acceptance, not only for gays but for other minority groups in surfing too. Through his website and the promotion of this film he has said he has experienced a shift in values. It's more than a few people with a common interest getting together to surf, it's become a community and social mission for others that need it. There are surfers in remote countries and small villages world wide that have expressed gratitude just for the fact that they don't feel alone, knowing there are other gay surfers out there. One of my favourite quotes is "If people want things to change you've got to be visible. It doesn't mean wearing a pink wetsuit, it means just being who you are... representing yourself, so people can get to know you".
I think this film will provide a powerful message that will rattle the cage a bit, but hopefully help some surfers out there find some peace of mind while riding their next wave.
The Out In The Line-up team are currently crowd sourcing capital to finish the film. If you'd like to contribute visit their 'Kickstarter' page.