Lewis Samuels on Kelly's pool in Esquire
Friday, 11 May 2018
For those who haven't got enough of Kelly's Hot Tub, or who perhaps want a different perspective, Lewis Samuels has penned a great longform piece for Esquire magazine that's now available online. Targeted at a mainstream audience there's a lot of character development ("Kelly who?") with few revelations on the tech front, however Samuels puts an artful philosophical spin on the pool and it's affect on him which makes for a great read.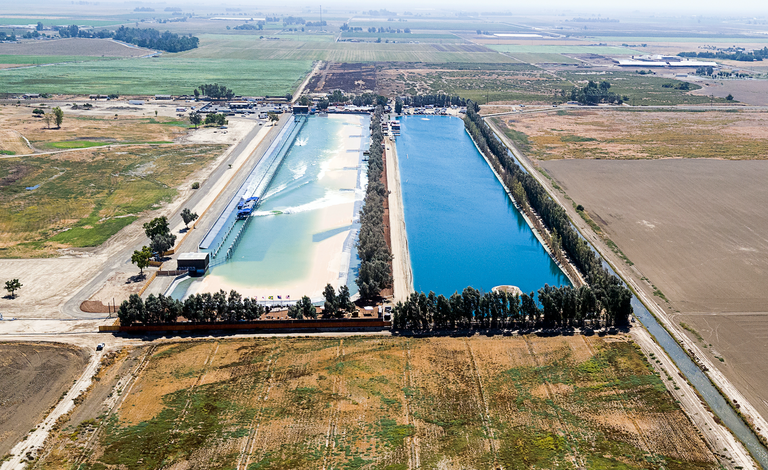 There's a crack of static and then an amplified voice. "One minute!"
I'm sitting on my board in the center of a Popsicle-stick-shaped pool, which stretches nearly the length of seven football fields. The surface of the water is still and dark, a mirror reflecting the morning sky. Suddenly, I hear the banshee-like moan of cable being winched. A blue-canopied train of 150 adjoined truck tires barrels down from the far end of the pool. For a moment I feel the bystander's urge to move away from danger. But I've dreamed of this moment for many months and I hold my ground.
A mirage appears on the horizon: the perfect wave. It builds, then breaks. A lithe, tan, forty-six-year-old surfer springs to his feet and starts effortlessly slithering toward me. It's his wave—the product of years of research and experimentation, millions of dollars spent in secret. It's also his sport. Kelly Slater is the undisputed king of surfing, an eleven-time World Surf League champion. His dominance, mastery, and longevity have led some to ask whether Slater is not only the greatest surfer of all time but also the greatest athlete of all time. At the very least, he's spent his whole life doing things that other people thought impossible. But Slater is human, middle-aged, and surfing with a broken foot, against his doctor's advice. He falls as the foam washes over him.
I shake off the awe, frantically spin, paddle, and drop into my first inland wave. Perhaps two hundred others—among them current top competitors, billionaires, and celebrities—have felt what I'm feeling.
Historically, good surf has been a reward for the determined, available to anyone willing to suffer enough. The WSL Surf Ranch is 100 percent private, which wouldn't matter much if the wave sucked. From Big Surf, which opened in 1969 in Tempe, Arizona, to Disney World's Typhoon Lagoon, artificial waves have tended to resemble supersized toilets.
But Slater's wave does not suck. It has all the qualities of a world-class ocean wave while also being uncannily predictable and endlessly reproducible, unlike any other on earth. The moment Slater unveiled his machine can be considered surfing's singularity: the day technology surpassed nature.