RIP Big Darrell Eastlake
Thursday, 19 April 2018
Last night, Darrell Eastlake passed away on the NSW Central Coast. His long battle with Alzheimer's disease over. He was 75.
Older surfers may recall Darrell Eastlake as an early surf entrepreneur and media figure, while those of middle-age will never forget his basso profundo voice booming out of the tele, and younger crew will have no idea what I'm talking about.
Big Daz was born in 1942 and came of age during Australia's first surf boom. Eastlake learnt to surf at Bondi but at the end of his teenage years he moved south to Corrimal, near Wollongong, to open the area's very first surf shop. The South Coast Surf Hut was located near Corrimal train station and was, according to Phil Jarratt in his memoir Life Of Brine, regularly filled with the hottest surfers from the area and the prettiest girls too. Big Daz worked his charm from a young age.
Big Daz on the left outside the South Coast Surf Hut in Corrimal
He also had an aptitude for organising. In 1964 Daz formed Corrimal Area Boardriders which provided his first foray into commentating. Tony 'Midnight' Ryan is from Sandon Point and was a teenage alumni of Corrimal Area Boardriders. He recalls Daz on the PA during their monthly competitions.
"You'd hear him on the microphone," recalls Midnight. "'What a tube!' so we'd look around and there was no tube. 'Incredible re-entry!' and we'd look again and the surfer was doing a cutback."
"He was always getting it wrong," chuckles Midnight. "But he was just so entertaining, always working the crowd. A fantastic fella."
Despite his charisma and beachside flair, mutiny was on the cards. In 1966 a bunch of kids broke away from Corrimal Area Boardriders to form Bellambi Area Boardriders, and Eastlake was reportedly crestfallen by their disloyalty. Whether that contributed to his next move we don't know, but by '68 he'd moved back north, this time to Cronulla where he manned the Gordon Woods surfshop, eventually starting his own company, Something Incredible surfboards with John Rhodes.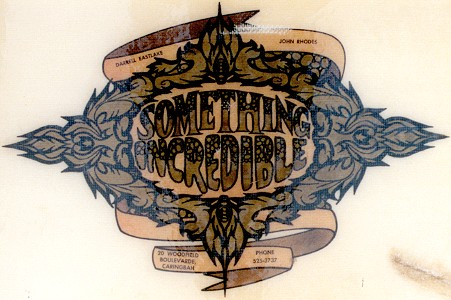 Only a sports commentator would call their surfboard label Something Incredible.
During his time in Cronulla, Big Daz had his first taste of media work. Because of his booming voice and perpetually high-spirits, radio station 2UW roped him in to do their southside surf reports. He was leaning towards media work but not before a short stint presiding over Windansea Surf Club in Queensland. It was his last job in the surfing world.
Big Daz letting someone else speak for a change
By the early 1980s he'd established himself as a sports commentator of renown, calling the NRL State of Origin matches and Grand Finals, and being a regular fixture on Wide World of Sports. When Gibbo and Chappelli crossed from the studio, Big Daz was always out in the field, trackside at Mount Panorama, in the bleachers at the weightlifting, or walking Merewether Beach with Nicky Wood, delivering each story with inimitable enthusiasm.
Channel Nine colleague Ken Sutcliffe said Eastlake was a character to work alongside. "You just couldn't help but get into trouble in his company," Sutcliffe told nine.com.au.
"I never got thrown out of a hotel, yet I got thrown out because I was with Darrell — and I was 40-odd years of age."
"He was larger than life, and he loved life. He was noisy, passionate, infuriating and funny."
At the 1990 Auckland Commonwealth Games Big Daz was pulled from the commentary team due to his over-excited performances.
In his 'Twelth Man' impersonations, Billy Birmingham sent up Big Daz ferociously, capturing his over-the-top calling ("taking the voice back up to the threshold of pain") and speak-before-you-think delivery ("Pearce off, Jack, Gibbs on"). It was pitch perfect though it was hard to imagine Big Daz being upset.
Big Daz eventually retired from media work in 2005 and was diagnosed with Alzheimer's disease in 2010, plus emphysema brought on by years of being a heavy smoker.
Eastlake is survived by his wife Julie.