Drinking with the Prince of P'Pass
Yesterday I met the Prince of Palikir Pass. He knocked on my door just after midday and I let him in. We spoke for a while and he is indeed a prince, his father being the King of Sokehs, the region of Pohnpei that includes Palikir. He explained the terms of his monarchy as he ripped the top off a soft pack of cigarettes. The Prince smokes Marlboro filterless.
We talked business for a while on my porch but as it was a Friday afternoon anxiety was setting in. "What are you doing now?" he asked. I had no plans, the surf had dropped below measurement, the sun was soon setting, I'd vaguely thought about ordering tuna ngirri with Asahi and watching the shadows lengthen across the bay.
The Prince had a better idea. "Have you ever drunk sakau?" he asked.
I told him I hadn't. The Prince's eyes lit up with an idea. "You'll love sakau. Come with me."
We hopped into his four wheel drive and together we drove to the old section of Kolonia. The Prince knew everyone on the island, he'd turn left across oncoming traffic, stick his middle finger up at the approaching car and the driver would laugh and hit the brakes or maybe he'd mock a car crash. Whatever their reaction it was jokes all 'round. The Prince would yell friendly greetings out his open window and passerbys would wave their hands over their shoulders.
The Prince explained how he'd just returned from Ethiopia where he'd attended a UNESCO conference. He'd been dry for two weeks. "No sakau in Addis Ababa!" We parked across the road from what looked to me like a sparsely planted banana orchard. It was ringed by a wooden fence with chairs and tables set up haphazardly inside of it. "Welcome to the sakau bar!" said the Prince enthusiastically.
Sakau bars such as this are set up all around the island of Pohnpei. And while the sakau ritual holds cultural significance in Pohnpei it's also used as a social lubricant by the common people, and no time is that more apparent than on Friday nights when the hard working islanders just want to relax and be among like-minded folk.
"The guys who like to talk about politics, they sit there" said the Prince pointing to a troupe of stiff-backed drinkers, before pointing to an empty table. "While the musicians they'll come and they'll sit over there. Everyone has their clique."
"What do you like to talk about?" I asked.
"Oh, we're the wise ones...mainly we talk about girls," he said smiling while gesturing for me to sit.
I was introduced to Jun, who's a lead singer in an ACDC cover band, and then almost immediately another fella, also called Jun, who's the vice president of the local bank, sat down to join us. The trio spoke Pohnpeiian for a few minutes, easy in each other's company while the Prince nodded to every new face that entered the sakau bar. He was a man among his people.
Then he turned toward me and spoke English. "You don't have to have every helping of sakau, you can say no, and you can even spit some out if you don't like it. If it was for an event there'd be customs to observe but there are none so drink up and enjoy!"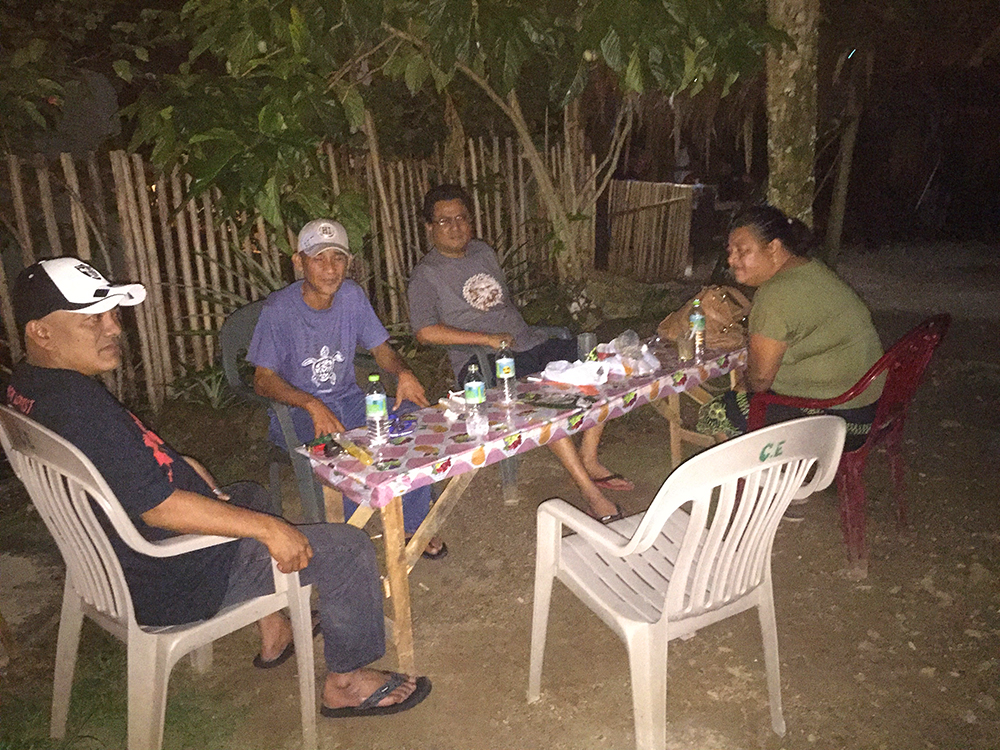 Make yourself comfortable...
The Prince took the first swig from the coconut cup, swallowed then exhaled loudly. He passed the cup to me and let his shoulders slump. I looked into the grey water then took two big mouthfuls as the others watched on smiling.
Sakau in Pohnpei is the same as Kava in Fiji or 'ava in Hawaii, it also has a few other names in the places it's drunk around the Central Pacific. It's all produced in a similar way, the roots of the Kava plant are beaten to a pulp then drained and either drunk straight or mixed with additives. The Prince proudly insists Pohnpeiian sakau is stronger than that of other countries. "We use younger plants so it's more potent plus we mix it with hibiscus to make it taste better."
And the taste wasn't nearly as bad I expected, much like slightly soapy water with a touch of grit and a hibiscus high note. I said yes to the next helping and the helping after that. Meanwhile the Prince and the two Jun's cajoled each other good naturedly. They were regularly interrupted by others who called by the table and asked questions in the local dialect. It didn't take a degree in anthropology to discern what was unfolding, time spent in bars around the world was enough to recognise the communal release of stress, of worries being relieved by sharing them with friends.
Despite being the only honky in the sakau bar I didn't feel foreign. I also didn't feel the least bit conspicuous. You can chalk that up to the sakau high which creates a wonderful feeling of harmony. In the past, chiefs would use sakau to avoid bloodshed, to bring warring tribes together and settle their differences peacefully.
The Prince laughed when he told me about surfers at Pailikir Pass. "I paddled out there thousands of times, fished it since I was this high," he gestured to his knee, "and I had no idea it was a perfect wave. All I see is whitewash!" Everyone at the table roared.
"You should've made it exclusive," I said jokingly. "Made us surfers pay for it. You've heard of Fiji, right?"
The Prince laughed and then drew a line through my jest. "You know, it wasn't locals who created the situation in Fiji, but others who came later. We are just happy that surfers come and enjoy Pohnpei."
However, it's not just surfers that come to Pohnpei and the topic causes some consternation at the table - at least as much consternation as could be mustered through the sakau fog. The trickle of Asian tourists is steadily increasing and the men are wary. They know tourism can solve Pohnpei's unemployment problem but they also know how it would alter their little island. There's been talk about big hotels being built.
"If they ask for a loan through the bank I'm going to deny them," says Jun the bank worker laughing as he imitates stamping an official form. The Prince told me the locals recently had a reprieve. The airport runway was extended but the work stalled before it reached a length where larger planes could land. "The jumbos would roll right off into the lagoon!"
"And if they ask for a loan to lengthen the runway I'll deny them too!" said Jun to much laughter.
I sensed that encroaching development was a common topic around this table, but fortunately it's still so distant that it can easily be batted away with a joke and another round of sakau.
9pm feels like midnight in Kolonia and the sakau drinkers slowly begin to dissipate. The Prince and I stand to leave and I quickly have to sit back down again. "Don't walk too fast and try and hold onto things," someone suggests helpfully. I thank whoever said it, slowly push up on the table, lean against a palm tree, then aim for the door.
The Prince helps me into the car before starting it up and rolling his way through the old part of Kolonia, our headlights illuminate mangy dogs and teenagers smoking on street corners. The Prince waves at all of them.