Behind The Shot: Kurt Rist, Mullaghmore Head, Ireland
Thursday, 9 January 2014
"Honestly the few days leading up to the swell was the worst part," said Kurt Rist of the recent swell at Mullaghmore Head. "There was so much hype from the media we didn't really know what to expect on Monday."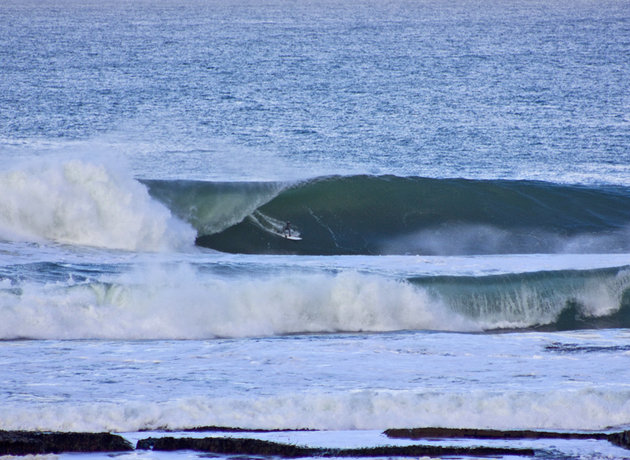 This photo, taken by Colin Cooney of Surf Around Ireland, was taken two days before the now famous 'Hercules' swell. Crew were arriving at Mullaghmore Head, that little Irish nook that's exploded to international prominence, to prepare for the much-hyped swell. Andrew Cotton, Tom Butler, and Lyndon Wake came up from England, while Nic Von Rupp flew solo from Portugal. Rist, for those who are wondering how his name fits into the Irish tradition, is an American. From Southhampton, New York. He's been making regular flights across the ditch whenever Mully's breaks, slowly ascending the pecking order by way of pereserverance and commitment.
Mullaghmore was barely breaking when this photo was taken, yet the winds were light and sun was shining - two rarities in this corner of the world - so they treated it as a warm up swell and an opportunity to sharpen safety techniques. The crew at Mullaghmore - locals and visitors - have a clear focus on safety. "Everyone pushes each other and helps each other stay safe."
"We had a massive low tide so there were some eight footers that were sneaking in and going square," said Rist who stepped off a PWC into this drainer. "On this particular wave I thought it was going to suck up dry on me."
After all the hype, the practice, and the anticipation, the size on Monday came in under expectation. "Maybe a little dissappointed," said Rist before qualifying that statement, "but when the bombs did come in the combo of a massive low tide and huge period made for some thick heavy waves. There was so much water and power!"
Visit Surf Around Ireland
Swellnet's Mullaghmore Head (Bundoran) surf forecast.