Rip Curl Pro 2016 - Early forecast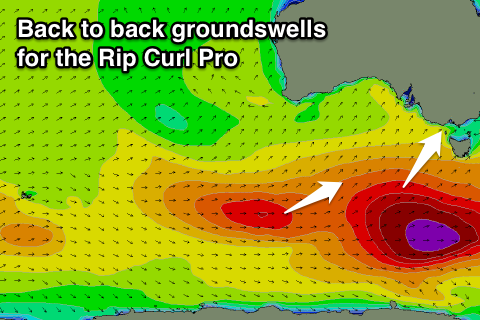 The WSL may have just missed Cyclone Winston on the Gold Coast, however the early outlook for this year's Rip Curl Pro is looking promising.
It was an average summer down on Victoria's Surf Coast and early autumn continued the trend, but right in time for the event we've got a strong succession of cold fronts firing up through the Southern Ocean.
The best feature of this setup is that each frontal system will be moving in over an already active sea state generated by the one before, resulting in persistent swell energy, not dropping below 3-5ft from Thursday afternoon through to Easter Sunday, with a significant pulse in the mix on Saturday.
An initial flurry of frontal activity should produce a good SW groundswell for Thursday, the first day of the waiting period. This swell will build to 3-5ft at Bells (although onshore), holding a similar size through Friday with morning offshore winds.
A larger long-period SW groundswell pulse will be generated for Saturday by a deepening polar low acting over the active sea state from the initial storm, with wind speeds likely to reach 45-50kt through the Surf Coast's south-west swell window.
This swell is expected to fill in through Saturday, with Bells due to kick the 5-6ft range with morning offshores ahead of weak SW afternoon sea breezes. At present it appears the best day of the waiting period.
A drop in size is due through Sunday, however a final pulse of SW groundswell from one final frontal system swinging in under the country is due, keeping 4-5ft sets hitting the reefs through most of the day before backing off Monday from the 3ft+ range.
Winds on Sunday will improve with an unfavourable N/NE'ly due to swing more N/NW through the day, with clean conditions Monday morning ahead of a gusty SW change.
Beyond this if the competition needs more time to run, we've got a large SW groundswell event on the cards for Thursday, but we'll keep you update on this in the comments below.

The Rip Curl Pro runs from Thursday the 24th of March through Tuesday April 5th.
Thursday: Small early, building to 3-5ft through the afternoon. Bumpy and onshore all day.
Friday: 3-5ft SW swell. Clean during the morning and bumpy into the afternoon.
Saturday: Strong SW groundswell building to 5-6ft during the day. Clean during the morning and bumpy into the afternoon.
Sunday: Mix of SW swells to 4-5ft. Bumpy through the morning, Improving through the day.
Monday: Easing SW swell from 3ft+. Clean through the morning and messy into the afternoon.
Tuesday: New W/SW swell to 3-4ft. Lumpy/bumpy conditions with a light to moderate onshore wind.
Longer Term: Large SW groundswell possible for Thursday.