Scientists Say Irukandji Jellyfish May Migrate South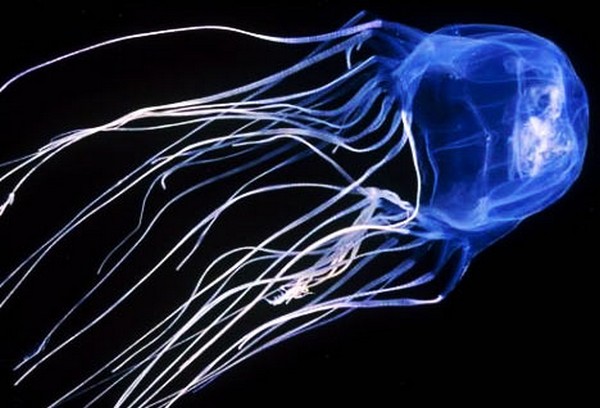 As surfers we're often told that the effects of climate change could have a direct impact on wave riding. The reason given is sea level rise; the combined effect of glacial melt and thermal expansion that will change how waves break on your favourite stretch of coast. However, it's not the only change that may effect us. Of particular interest to Queensland surfers is the potential southward migration of Irukandji jellyfish.
Irukandji are a type of box jellyfish, tiny in size they measure just a couple of centimetres across. They're also transparent making them near impossible to spot in the ocean. The sting of the Irukandji, while not normally fatal, leads to excruciating pain and muscle cramps. Other effects include a burning sensation of the skin, headaches, nausea, restlessness, sweating, vomiting, an increase in heart rate and blood pressure, plus psychological phenomena such as a feeling of impending doom. Collectively it's known as Irukandji Syndrome and can last for hours or weeks. Hospitalisation is almost always required.
At present the range of Irukandji jellyfish extends as far south as Fraser Island. However, over the next 50-100 years southeast Queensland waters are forecast to rise between 2 and 4 degrees. Even at the lower end this would ostensibly mean all Queensland waters are warm enough to sustain Irukandji. So for Queensland surfers the question begs: Can we expect an influx of Irukandji and other warm water tropical stingers into the Sunshine Coast and Gold Coast?
Professor Jamie Seymour is a toxinologist at James Cook University in Cairns. In 2010 he told the ABC that the annual Irukandji season was increasing. "30 or 40 years ago the length of the irukandji season was about a month to a month-and-a-half," said Prof Seymour. "The length of the season now is about five-and-a-half to six months."
The extended season allows the Irukandji to roam far wider than they previously have. "It's just going to take a little bit of time, an increase in water temperatures [then] it'll be a problem down in Surfers Paradise," warns Prof Seymour.
Dr Lisa-Ann Gershwin has been leading the research on Irukandji (at least she was until the Federal Government recently cut CSIRO funding and put her out of a job) and she believes it's possible though migration is not just a matter of warmer water hosting the jellyfish.
In 2007 the first Irukandji was spotted at Hervey Bay. Since then there's been a recent spate of Irukandji stings in waters further south than is there normal habitat. The last one was a young boy badly stung on New Year's Eve at Wellington Point inside Moreton Bay. "Whether that was a one-off, or a glimpse of things to come, is completely unknown. We simply don't have the research."
However, one thing that will allay the fears of surfers bracing for hordes of Irukandji is their physical structure: Irukandji are small, thin, and fragile, they can't survive in areas of high wave activity. This doesn't mean they won't migrate south, it just means such migration can only happen under certain conditions.
Last May, just prior to losing her job with CSIRO, Dr Gershwin released a report that forecast when Irukandji blooms may occur. The report states that Irukandji stings are more likely when there's an absence of trade winds. Dr Gershwin surmises that they may take up residence in sheltered areas to the south, such as Moreton Bay and the lee of the Stradbroke Islands, and wait until conditions are ideal – times of light winds and low wave activity – when they'll fan out. Suffering through a flat spell may take on a whole new meaning.
Dr Gershwin's forecast was devised with Queensland's tourist economy in mind. It can give lifeguards and councils up to a week's notice to shut beaches during times of high risk.
The news is both good and bad
Last year, PhD student Shannon Klein, working under Associate Professor Kylie Pitt from Griffith University, published a paper on the changing habitat of the Irukandji jellyfish due to expected climate change.
What the paper revealed is that Irukandji will tolerate all forecast increases in temperature off southeast Queensland, flourishing in both summer and winter conditions. An increase in the strength of the south-flowing East Australian Current may also facilitate the movement of adult Irukandji into higher latitudes.
However, countering the increased migration range is an expected rise in ocean acidification. That is, if climate change follows forecast models the world's oceans will become more acidic as they absorb carbon from the atmosphere. This acidification will slow the rate at which the Irukandji can procreate possibly keeping the Irukandji population at bay in the long term.
Interestingly, Shannon finds that in the short term – meaning the next few decades - if ocean temperatures rise and acidification lags there's a good possibility that Irukandji could inhabit the more southern waters of southeastern Queensland.
So it seems in the coming decades we could see an increase in venomous jellyfish and Irukandji across the Sunshine Coast and Gold Coast but longer-term their infiltration may be kept at bay. //CRAIG BROKENSHA with STU NETTLE
Special thanks to Dr Lisa-Ann Gershwin and Shannon Klein for their help.