Should legropes break?
Tuesday, 27 March 2018
It's the one item in surfing that hasn't changed since invention. Since legropes appeared, boards have grown and shrunk and grown again, they've sprouted fins, they got plastered with deck grip front and back, while fashion has spun in endless cycles, and all the while the humble leggy has remained constant. Just a simple piece of plastic connecting tail and ankle.
Even florid language misrepresents its simplicity, so I'll cut that out right now.
Recently FCS claimed they had reinvented the legrope with the Freedom leggy, and going on looks alone they've made a good play at it. The Freedom features a standard PU cord but the most obvious change is a lattice work of nylon covering the cord.
It's hard to discern if the over-braided nylon is there to add strength, protect the PU cord from damaging sunlight (more on that later), or it serves another purpose entirely. Unfortunately for review writers, the positives of a legrope show over time thereby leaving a reviewer with two test sessions under their belt fumbling something about looks, and ..err, looks. What else can you go on?
Not so long ago a fella called Jose Espinoza attached an article on legropes to his LinkedIn account. It was called 'Should surfboard leashes have expiration dates?' and was just about the most exciting article on leggies I'd ever read. In truth it was the only article on legropes I'd ever read.
Old Jose is a plastics consultant working in south-east Asia and he described the lifespan of polyurethane (PU) used in legropes and how it breaks down over time. All PU will eventually break but you can extend your legrope's life by doing things such as avoiding high temperatures, high humidity, contact with soil, and direct sunlight.
That last point explains why FCS Freedom legropes may last longer: the nylon stops sunlight reaching the PU cord.
However, Jose's take home message was that you have no control over what happens before you buy your legrope. The manufacturer may use cheap PU pellets, the PU may get left in hot factories, warehouses, or shipping containers, it may even get left in customs for three months at a time. You may not get your legrope till upwards of six months after it was made, yet the PU began deteriorating from the instant it was extruded.
So if it's your new $1,000 sled at stake, Jose came to the conclusion that legrope makers print a use by date on the pack and you toss the legrope into landfill when it passes said date. Even if it's not broken it soon will be, so chuck it away before you get stuck with a big swim and a visit to the ding repairer.
It's a thoroughly sensible idea yet something about it rankles. Maybe it's the planned obsolescence, or perhaps it's the Great Plastic Garbage Patch that's growing in the corner of my shed. Should we accept all legropes will break and confine them to landfill?
About a year or so ago, a company in South Africa started producing Silver Cord legropes. Their legropes used hollow PU with a threaded metal rope running inside the cord. If the PU broke, the 'silver cord' would keep the surfer attached to their board.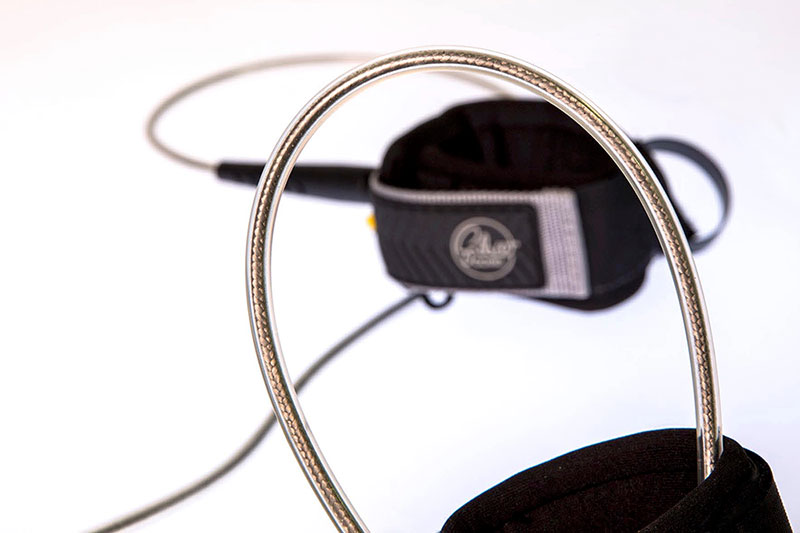 Silver Cord were more concerned with safety than economics or environment, however another company have just launched a legrope that comes with a lifetime warranty. If it does what it says it's both good value and green.
Cold & Sharky legropes use a flexible metal line attached to the ankle cuff at one end and entwined into the rail saver at the other (see video below). The core line is then covered with a mesh sleeve which looks an awful lot like the new FCS Freedom exterior. If the leggy breaks, either this week or sometime in 2028, Cold & Sharky say they'll replace it. I looked for the fine print but couldn't find it.
Unlike the Silver Cord, or most leggies made for big waves, the Cold & Sharky legropes don't have a bail clip. If you get caught on a coral head you better know how to reach your ankle cuff (tip: bend your knees not your hips). I imagine this would be a deal breaker for some, even those who never surf over coral.
Also, the Cold & Sharky is approximately twice as much as the average leggy on the market. Planned obsolescence keeps the price of products low, but a leggy for life that curbs my own Great Garbage Patch has some merit too.
If nothing else it's at least worth thinking about what revolutionary mean in the context of the humble little legrope.