A few thoughts on evolution and surfboard design
Tuesday, 28 April 2015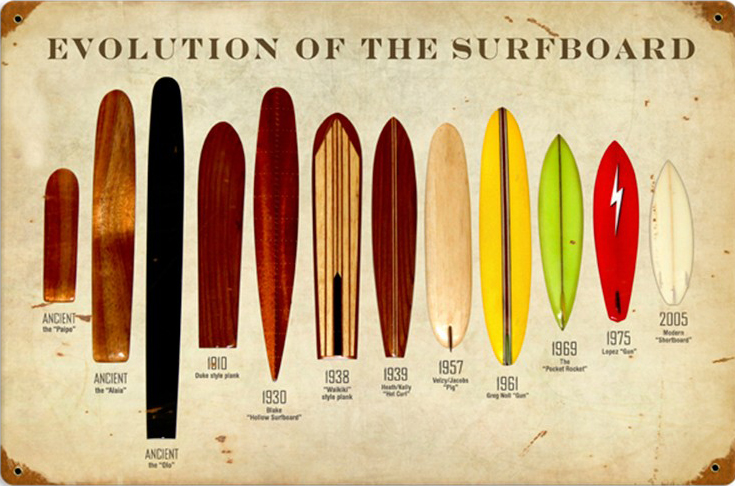 In the past, when we thought about the surfboard design process, we imagined a shaper, perhaps with a surfer standing alongside, confronting a block-like foam blank with nothing more than a few plywood templates, some basic tools, imagination and experience. These days we probably imagine the same shaper, slightly greyer and longer in the tooth, bent over a computer design program carefully adjusting the various parameters to achieve, let's be honest here, a superior result.
At this stage of development that cannot really be considered in any way controversial. Computer design, linked to modern shaping machines, produces boards that are not only more accurate and consistent with the designer's original intentions, but boards with a degree of sophistication in every curve that few, if any, hand shapers could consistently achieve. Yet it is worth remembering that the computer, beyond smoothing some curves, plays no real role in the design process.
Surfboards are complex objects that have to function in a wide variety of conditions. Boards may be designed for a particular range of wave sizes and shapes but, at the consumer end of the market, that range can be quite broad. The hydrodynamics, beyond a basic analysis, quickly become far too complex to be of much practical use and if anyone has developed software that can be used to design boards or model surfboard performance, they are keeping quiet about it.
Historically ordinary surfers often had direct contact with a shaper and so could directly contribute to the design of their own board. Some shapers still offer this service but the vast majority of boards sold these days are standardised products from which the consumer, with expert advice if they are lucky, simply selects from the several hundred ranked along the rack in the showroom. It would be easy to conclude from this that we mere consumers are now almost totally excluded from the design process, but this is not true.
If we think back to those images of surfboard designers at work they represent only one part of the process. The second part is carried out by us, the consumers. To understand how this occurs we can draw a parallel with the evolutionary process of natural selection. Natural selection is the process by which the different reproductive rates of individuals in a population shape the genetic composition of that population. Those best suited to the environment leave more offspring so that their characteristics become more widespread. New characteristics constantly arise by mutation to feed this process and changing environments, from time to time, shift the selective pressures.
If this seems a long way from surfboard design, it is only because historically we have tended to over-emphasise the theoretical aspects of design, the thought processes of the surfers and shapers, the "mutations" if you like, and under-estimate the selective process that follows their ideas. For example, there were numerous versions of surfboards with three fins before the thruster, but they did not survive. Surfers tried them, some perhaps made several versions but ultimately they failed to "breed" in the sense of instigating numerous copies with variations.
The thruster, on the other hand, almost immediately spawned a wide variety of copies with slight modifications as different shapers and surfers developed their own variations on the basic design. The selective pressure of performance then could act on this wide variety to select the most successful. Surfers and designers could see which variants performed best and made more boards like them. So successful surfboards, like successful organisms, leave more "offspring" in the following generation and the characteristics that made them successful, become more widespread. The new design ideas that constantly emerge act like "mutations" and are immediately subject to the same selective pressure. Each generation of surfboards has been exposed to the same process so that the designs have become more and more refined over time.
The shapers responsible for the more successful variations in each generation may claim that it it was their clever theoretical analysis that created the improvement and, in any individual case that may or may not be so, but from the overall perspective it simply doesn't matter. The results are the same whether the designer's logic was sound or it was pure luck. All that matters is that some favourable variations arise. The critical difference between successful designers and the others then is much more likely to rest in their close attention to the feedback they receive, either by surfing their own boards, watching others surf them or listening closely to their team riders. In this way they become part of the selective process.
This process of consumer selection then is every bit as important as the initial design process. It operates, not only at the cutting edge, but in every segment of the market. The boards we surf now are the product of decades of these processes constantly improving their performance and there is, no doubt, much further improvement to come. So choose your boards carefully. You have a role to play in that process. //blindboy