Guardians of the surf: Surfers involved in as many rescues as volunteer lifesavers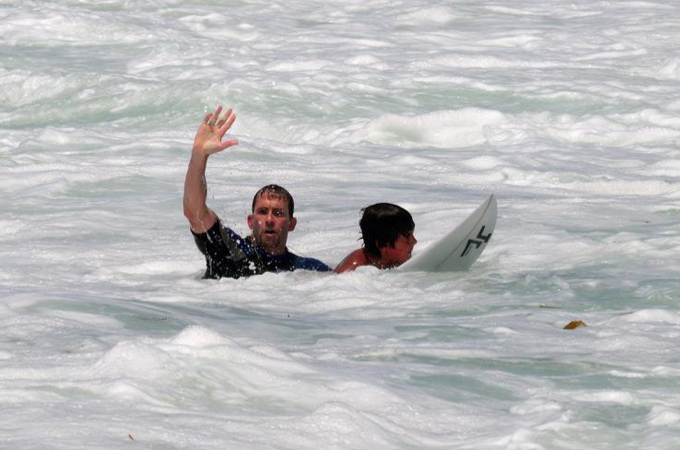 In 2011 I wrote a short article about the number of surf rescues being done by recreational surfers. The topic arose following discussion with Robert Brander, AKA Dr Rip, who'd made observations suggesting surfers made more rescues than were officially recorded.
I never did publish that article. The reason being, almost all the evidence I had - save the two rescues I was involved in myself - was anecdotal. Despite hearing about many rescues few were officially recorded. What appeared to be a good story amounted to little more than hearsay with not a lot of facts. And while Swellnet isn't the Royal Society we need some empirical evidence to hang a headline upon.
Enter Anna Attard. Anna is a science student at the University of New South Wales and recently did her honours thesis titled ' Guardians of the surf: The role and value of surfers in Australian beach and coastal surf rescues'.
The information Anna used to form the basis of her thesis was collected via a survey on Swellnet. You may have seen it on the homepage last March. 1048 people responded to the survey and this number was whittled down to 545 when overseas entries and incomplete surveys were removed.
While the survey data prevents an exact calculation, Anna estimates that the number of surfer rescues is significant. "It would equate to 5,000 rescues per year," says Anna, "which is comparable to the number of yearly rescues conducted by volunteer surf lifesavers."
By her estimation 45% of all rescues on patrolled beaches are made by surfers, with most of these rescues taking place when the beaches were busy with lots of people in the water. The number of surfer rescues rises to 53% on unpatrolled beaches.
Importantly, Anna found that 60% of the surfers interviewed did not have any formal safety or first aid training, but those that did were involved in more rescues. The implication being that if recreational surfers undertook such training the number of rescues would increase.
Over the last two years Surfing NSW has run 'Surfer's Rescue 24/7', a free CPR and board rescue course. Surfing NSW claims to have put 5,000 surfers through the course with more dates planned for 2015 (see here for dates). No such courses exist for other states.
Mark Richards was accredited in 2013 and said the Surfers Rescue 24/7 course "made me think about what I would do if I happened to stumble across a bad situation that's happening in the water."
"A surfer's recreational enjoyment can often take place in some pretty dangerous environments, so it's safe to say that over the course of their life, they will have to assist in a rescue or even perform CPR on someone. I think it's essential for anyone who surfs to have these skill sets."
Anna Attard thinks that information from her thesis can assist the Australian Water Safety Council's goal to reduce drowning deaths by 50% by 2020. That goal is set across all waterways: oceans, rivers, and lakes. However, as 90% of beach drownings occur on unpatrolled beaches the challenge, says Anna, "is finding a way to reduce the risk in areas where lifeguards are not present."
That's not her only ambition. Anna also hopes her study will finally put surfer rescues on the official record book and that it provides "the deserved formal recognition for surfers who act as voluntary rescuers."
Other statistics Anna found:
Rips represent the major hazard leading to rescue.
The dominant emotional response of people rescued is panic.
The highest proportion of rescues occur on quiet beaches with few people around.
Swimming is the activity associated with most rescue events (63%), with board riding associated with 25% of rescues.
Males 18-29 represent the largest demographic of people rescued.
Surfers with prior water-safety training are more likely to perform a higher number of rescues, however ability to perform rescues is not associated with formal training, but rather number of years' experience surfing.
Seventy-eight percent of surfers are happy to help, while 28% express feelings of annoyance or inconvenience, generally towards unwary swimmers.
Results of this research suggest that 63% of surfers feel they have saved a life. This value may be enhanced through improved training of surfers in basic water safety rescue techniques.