Abbot in wonderland: Or what if Tony really was a surfer?
Monday, 31 March 2014
I cannot think of any politician in Australian history with Tony Abbott's capacity for living in worlds other than the one the rest of us live in. A world in which carbon dioxide does not cause climate change because it's invisible, a world in which buying boats in Java somehow prevents people smuggling, a world in which no moral opprobrium attaches to the creation of international gulags for the convenient storage of non-persons beyond the reach of Australian law, a world where a curriculum created over years of work by educational experts stands to be replaced by one flung together at the last minute by right wing ideologues.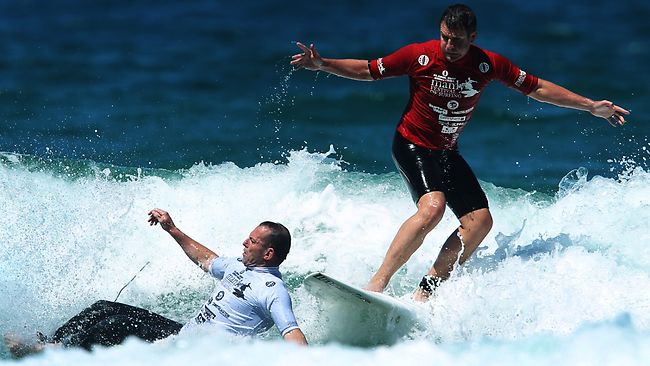 This imaginative capacity encourages me to emulate him and consider how things might have been different. So let's all duck down the nearest rabbit hole into a world where Tony Abbott was a surfer. I have heard him described that way in this world and this may be technically correct but I suspect most of us would rather preserve the term for those with a degree of competence and perhaps even some connection to their local surfing community. I have reliable eye witness testimony to his failure to meet the first criterion and at least circumstantial evidence for the second. Therefore, encouraged by this government's attitude to bold language, I will call him a kook.
For those who think I am inspired to write this by partisan politics, well it is true I usually vote Labor but these days it is in the sad knowledge that moving from worse to bad is all that can be hoped for. No, my comments are based on a consideration of how things might have been different if Abbott had been a surfer. I mean a real one with some skill and passion.
It is probably hard to imagine now, when beachside suburbs set record real estate prices and brutalist domestic architecture dominates the headlands, but our strongest surfing areas were working class and lower middle class right through to the early eighties. The steel cities of Wollongong and Newcastle, the old stock of housing on the Gold Coast, the fibro cottages that were standard through most of the lower northern beaches, the housing commission areas at Maroubra and the cheaply constructed apartments at Dee Why. These were all areas with fiercely competitive surfing cultures.
The point being that instead of growing up in posh and comfortable Wahroonga where it's all "After you Ponsonby", then progressing to a seminary where, blokes always being competitive, they presumably spent most of their time trying to be holier than each other, a surfer of Tony's generation would have had to deal with a harsher reality. One which might have given him a little more sensitivity to the needs of the less privileged. He may even have encountered people who had to work for a living in a real job rather than the various pieces of political puffery that occupied him in the pause between working for Jesus and working for John Howard. He may even have run into people more than willing to forcefully express their disagreement with the type of shallow self justification that has been his hallmark. I think it would have been a salutary experience for him to try his usual 5 seconds of spin after a drop in at Narrabeen some time around 1978.
It's also hard to imagine that a keen surfer of Abbott's generation would not have spent at least some time in Indonesia. The relevance of this is obvious to those of us who have cringed at an ignorance so profound that he believed he could control people smuggling by buying boats. Not to mention a cultural insensitivity that would do Sir Les Patterson proud. None of this bloody Asian subtlety for Tony and as for apologising when all we did was tap the President's phone! Not on! As a surfer he would have known more about Indonesian manners than simply being on first name terms with Terry McArsey.
The other aspect of this is that most surfers have travelled outside the tourist areas and met ordinary Indonesians living lives of a difficulty it is hard to imagine if you have never seen them. Subsistence farmers and fishermen for whom everyday means hard labour. Entire families of the under-employed whose only hope of eating each day is finding some way of scrounging a few Rupiah out of the hard streets of the city. Disabled beggars, abandoned or orphaned children, the dispossessed living in their cardboard shanties on the side of the road. If you have an empathetic bone in your body Indonesia will locate it for you.
Given that experience, he might even have stopped to consider the fate of the refugees his blockade has trapped in Indonesia. Remember that by definition, the option of staying in their home countries is not available to refugees. So now a country that struggles to lift its own population out of poverty is expected to pick up an increased refugee burden from one of the wealthiest nations in the world.
And finally surfing almost inevitably raises environmental awareness. You cannot spend all that time between the sea and sky without developing some genuine feeling for the natural world, a feeling conspicuously absent in a leader who refuses to take climate change seriously, fails to make even a token attempt to protect The Great Barrier Reef and wants to open up old growth forest in Tasmania to logging.
So climb back out of that rabbit hole and shed a tear for the world we actually live in where the Prime Minister is a notorious kook who is indifferent to the suffering of any but his own privileged class, a world in which our elected leader is the greatest environmental vandal in the land, a world in which we move ever more rapidly from democracy to absolute plutocracy. It is hard not to believe it would have been a better place if Tony had been a surfer. If only because he then would never have gone into Federal politics. No surfer wants to spend that much time in Canberra. //blindboy