Merewether nail two spots at the Australian Championships
Wednesday, 8 January 2014
It was a historic day for Merewether Surfboard Club, with their teams taking out first and second position, sending a harrowing warning to all contenders that they'll be the club to beat when the Jim Beam Surftag Australian Championships are held later this year.
Solidifying themselves as the premier club on the stretch of coast after claiming their third Regional Title in a row on Saturday, it was Merewether's Blue team lead by local pro, Ryan Callinan, who dominated proceedings in the final heat of the day. Jesse Adam, Mitch Ross, Jackson Brent and Paul Parkes all contributed to notch up a massive 98.37 score, leaving the remaining finalists scratching for scores in their wake.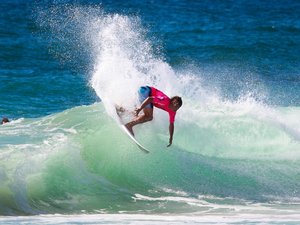 Fresh from a hugely successful Hawaiian season that has left much of the surfing world talking – particularly after his maiden WCT performance at the Billabong Pipe Masters – Callinan said the advantage of local knowledge and a home crowd was a big factor in the clean sweep.
"It gives us an advantage having it at Merewether," said Callinan. "It's a pretty tricky wave to know where to sit and how to surf, it helped us in that way. But having everyone come down, there were 50 or so there to support and cheer, it was such a good day. Everyone's so happy that we took it out."
"The year before we came first and third so to go one better it really shows we are the top club in the region. It's rad."
Jake Sylvester began the final with a flurry of radical surfing to put Merewether Black into the lead early, scoring 21.07. However, Callinan replicated his fine form from the North Shore to lock in a 7.1 and 9.5 on his BOSCH Powerwave. The combined total put Callinan atop the leaderboard for the $300 BOSCH Power drill and secured his position in the Tee Ink Tee Off. Being held for the first time at this year's Australian Championships, the Tee Ink Tee Off will see the Man of the Match from each six Jim Beam Surftag Qualifiers compete in a 15-minute heat with each surfer only to catch one wave. The highest score will take home $500 and loads of prizes courtesy of Tee Ink.
"I hadn't really had a good heat all day," said Callinan, "so I was stoked to put together a good score for the boys in the final."
"Avoca were really strong. If they had their full team on the day they would have been hard to beat. Come the finals they'll be ripping. North Shelly and Port Macquarie are also incredible on paper and it was a surprise not to see them in the final."
As Callinan sprinted up the sand for the transition to Jesse Adam, the team simply went from strength to strength and built a huge lead. Merewether Black finished second with 76.47, Avoca third on 54.97 and rounding out the final was Norah Head, 52.00.
While the final may have appeared a one-sided affair, Callinan was quick to admit the team's semi-final performance very nearly turned into a shock elimination for the elite squad.
"Yeah, the semi-final was tight. Rossy took a lot longer than he should of, so when I hit the water, my game plan was to get two quick ones. I got a couple of fours, which wasn't all that good, but Jesse and Jackson really saved it for us."
"It's crazy having a team this good though. Rossy came in and even though he was bummed, he know that the others could bring it back. It's good having that confidence and support for everyone. These team events really are one of a kind."
"It's really wild when I was looking at our teams on paper. The team that won has won the last three years but I was looking at our second team with Jake Sylvester and Luke Egan and I honestly thought they were better. They could have won for sure if they were all on."
With six teams qualifying for the showdown at the Australian Championships to be held at Duranbah on March 27-29, Port Macquarie and North Shelly will be making the trip north with the other four finalists.
The Jim Beam Surftag is the biggest tag team surfing series in the country with a combined prize pool of over $130,000 in cash and prizes with the overall winners receiving $15,000 and a Boat Trip to the Maldives courtesy of Perfect Wave Travel.
Perfect Wave Travel, BOSCH and TEE INK proudly support the Jim Beam Surftag.