Barbarian Days: A Surfing Life by William Finnegan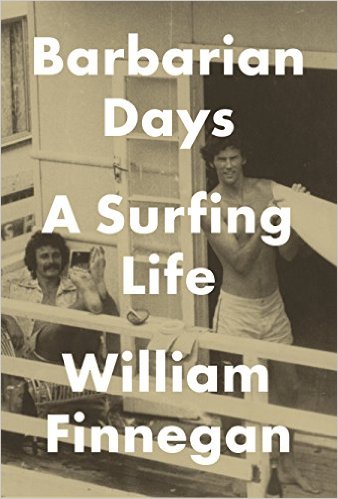 With a few honourable exceptions, writing aimed at the general public about surfing has suffered the miserable literary fate of falling into a narrow space, defined at one end by the limited literary abilities of its participants and at the other, by the inadequate understanding of more skilled writers. Finnegan has no such problems. As the author of numerous books, a staff writer at the New Yorker for over 25 years and a contributor to such exalted literary journals as The New York Review Of Books, he knows how to write well. Equally, as a life-long, well travelled surfer, he has an intimate understanding of his subject.
So this is a substantial work that easily eclipses anything comparable and instantly achieves classic status. For the foreseeable future anyone seeking to understand surfing across the last 50 years will turn here first. Yet the word 'Life' in the title also resonates throughout the text. The surfing experiences are deeply embedded in their contexts of place, family, friends, and relationships. We see the naive teenager and his gang of friends hanging out and surfing around Diamond Head and Waikiki. We follow the the aimless youth and his best friend as they spend years travelling in search of waves and themselves, and we meet the established, professional writer taking a break from more serious work. And through all of this the view is always out to what is happening around him so that our view of the man himself arises only as the space left unfilled by his observations. Form and ground.
This style is very much the New Yorker house style of detached, clear-sighted, longform reporting so the work is built on careful observation, long periods of deliberate recollection and equally long periods of careful research. The writing itself may appear simple but its simplicity is deceptive. Its power arises from the intricate construction of its passages and the careful layering and sequencing of the images so that the reader is carried along effortlessly. There is nothing artificial or pretentious here, no striving for literary effect for its own sake. Nor is there the kind of selective memory, so common in memoirs, that leaves a carefully curated portrait of someone who could never have existed. Finnegan's view is unflinching. His is not an unexamined life.
Most writing about surfing has been about its high achievers. Like the majority of surfers, Finnegan was never part of that world so his experiences resonate in a way that those of a professional surfer never could. He also avoids the trap, implicit in so much writing about surfing, of taking for granted the fact that surfing is superior to any other activity ever indulged in by humankind. His passion for, and commitment to, surfing vary but even at their peak there remains that degree of ambivalence so necessary to a true understanding. To see anything in absolute terms is to miss some essential part of it. In this case, that our attraction to surfing is about each of us as individuals far more than it is about surfing itself.
His perspective is also different to most other surf writers because surfing has not been the main business or achievement of his life. He is a man of much greater substance than that. One who has taught in a black high school in South Africa during apartheid and reported from war zones. One who, by his own admission, was delayed in writing the book by the fear that it was too trivial a subject and was distracting him from more important projects. This gives him the kind of perspective on surfing so often missing in other works; that for all its capacity to intrigue and entertain us, it is, in the end, the icing, not the cake.
The ultimate test of anyone writing about surfing though is to write a decent wave. In terms of literary hazard this is up there with writing about sex. Both activities are so intensely physical that their translation into words will always be fraught with difficulty. Cliche and absurdity are the most obvious risks but getting the physical details right is absolutely critical. Finnegan's waves, both those he rode himself and those he saw ridden, are immaculate. He is the Kelly Slater of the written wave! He will probably never write about surfing again and yet will, for a long time, remain the most important, and hopefully the most influential, writer on surfing. //blindboy
Click to read 'The Lucky Country', an exclusive extract from Barbarian Days.