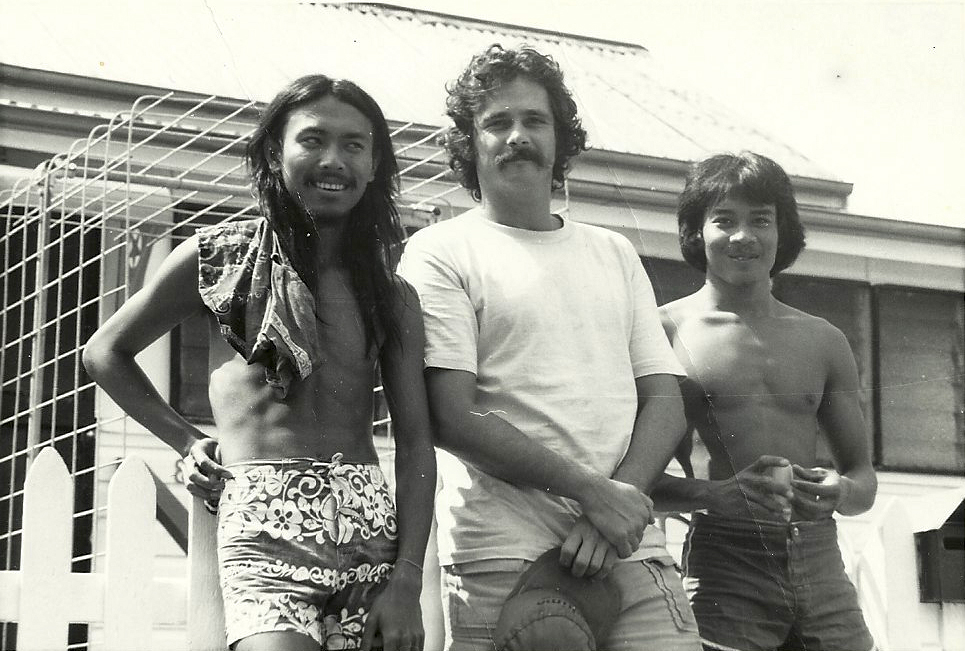 After many months in the South Pacific, living out of knapsacks, camping, and looking for waves, Bryan Di Salvatore and I landed in Kirra, Queensland, near the New South Wales border. We were the proud owners of a 1964 Falcon station wagon, bought near Brisbane for three hundred dollars. First we car-camped and surfed up and down the coast, from Sydney to Noosa. It was dazzling to be back in the West, with all its comforts and conveniences, and to be surfing known spots—there were even road signs, SURFING BEACH. It was great to have wheels. Food and gas were cheap. Still, we were nearly broke. And so we rented, with our last funds, a moldy bungalow at the back of a ramshackle complex misnamed the Bonnie View Flats. Most of our neighbors were unemployed Thursday Islanders—Melanesians, from the Torres Strait, up near Papua New Guinea—and some of them possibly had views. We certainly didn't. But the beach was just across the road, and we had not chosen Kirra randomly. The place had a legendary wave. And the southern summer was starting up and, with it, we hoped, northeast cyclone swells.
Bryan got a job as a chef in a Mexican restaurant in Coolangatta, the next town south. He told the owners he was half-Mexican, but fumbled it when they asked his name. He said McKnight when he meant to say Rodriguez. He didn't have a valid work visa under any name. They hired him anyway. I found a couple of backbreaking jobs, including ditchdigging, which deserves its reputation as the worst sort of donkey work, for cash paid daily. Then I got hired as a pot washer in a restaurant at the Twin Towns Services Club, a big casino just over the New South border, fifteen minutes' walk from our place. I told them my name was Fitzpatrick. The manager said that as a condition of employment I had to shave my beard, and so I did. When Bryan came home that night, he took one look at me and shrieked. He looked genuinely distressed. He said it looked like half my face had been burned off. I was pale where the beard had been, dark brown everywhere else.
There, there, I said, it'll grow back. This was actually sweet revenge because Bryan had dogged me for ages about my moth-eaten excuse for a beard. "It looks really good, Bill," he would say. "You look like a really liberal priest." He didn't mean that as a compliment.
I blew my first wages on surfboards. Kirra is on the Gold Coast, a surfing center, and there were cheap used boards everywhere. I bought two, including a 6'3" Hot Buttered squashtail that turned on a dime and, when necessary, went outlandishly fast. It was a sports car of a surfboard, and a nice change after months of riding my sturdy travel board. Bryan also got new, much smaller boards. The year-round neighborhood spot was called Duranbah. It was a wide-open beachbreak immediately north of the Tweed River mouth, very near my casino job. Duranbah always seemed to have waves. They were often sloppy, but there were gems scattered among the mush. On my twenty-sixth birthday, I got a sweet barrel on a shining right and came out dry.
The pointbreaks—Kirra, Greenmount, Snapper Rocks, and Burleigh Heads, the spots that put the Gold Coast on the world surfing map—would light up after Christmas, people said. They would start breaking, in fact, on Boxing Day, December 26, we were assured by a nonsurfing neighbor. We laughed at the not-likely specificity but looked forward to the waves.
In the meantime, I was falling hard for Australia. The country had never interested me. From a distance, it always seemed terminally bland. Up close, though, it was a nation of wisenheimers, smart-mouthed diggers with no respect for authority. The other pot washers at the casino, for instance—they called us dixie bashers—were a weirdly proud crew. In a big restaurant kitchen, we were at the bottom of the job ladder, below the dishwashers, who were all women. We peeled potatoes (which we called idahos), handled the garbage, did the nastiest scrubbing, and hosed down the greasy floors with hot water at the end of the night. And yet we made an excellent wage (I could save more than half my earnings) and, as employees, we had entree to the casino's private members' bar, which was on the top floor of the building. We would troop up there after work, tired and ripe, and throw back pints among what passed for high rollers on the Gold Coast. Once or twice, my coworkers spotted the owner of the casino in there. They called him a rich bastard and he, properly chagrined to be rich, bought the next shout.
I had never seen the dignity of labor upheld so doughtily. Australia was easily the most democratic country I had seen. The usual class markers from other places seemed wonderfully scrambled. Billy McCarthy, one of my fellow dixie bashers, was hale, well-spoken, forty, married with a couple of kids. I quizzed him one night over beers and learned that he had been a professional saxophonist in Sydney, with a day job as a foreman in a perfume factory. He had followed his parents to the Gold Coast, where he went into business with a friend mowing lawns and washing windows, growing bonsai plants to sell at flea markets, potting palms to sell on consignment at shops. He was still working as a nurseryman but needed the steady restaurant wage. He played golf, often with musicians up from Sydney to play the casino's nightclub or other local venues. If Billy felt embarrassed to be working as a kitchen hand, I could not detect it. He was hardworking, cheerful, politically conservative, usually whistling some corny tune, always ready with a quip. Effortlessly, he made me feel welcome. Once, as I was coming into work, I heard him call out, "There he is, the man they couldn't shoot, root, or electrocute."
The head chef, meanwhile, called me "Fitzie," to which I always failed, suspiciously, to respond. The chef was the boss in the kitchen. When I once gave him shit about a garishly decorated fish being sent out, he glowered at me and said, "Don't come the raw prawn with me, cobber." I couldn't tell if I had gone too far. But McCarthy and the other dixie bashers got a kick out of the exchange. They took to calling me Raw Prawn.
Local surfers were less welcoming. There were thousands of them. The ability level was high, the competition for waves acute. Like anywhere, each spot had its crew, its stars, its old lions. But there were full-blown clubs and cliques and family dynasties in every Gold Coast beach town—Coolangatta, Kirra, Burleigh. There were also hordes of tourists and day trippers, and Bryan and I would be assumed to belong to that low stratum of surf life until we could establish otherwise. The guys we began surfing with regularly were fellow expats—an Englishman we called Peter the Pom, a Balinese kid named Adi. One night I took Adi and his cousin, Chook, to a drive-in to see Car Wash. Chook had hair down to his waist and was the skinniest grown man I'd ever met—"chook" is Aussie slang for chicken. He and Adi got drunk on sparkling wine and laughed themselves sick at the movie, which they called Wash Car. They thought African Americans, whom they called Negroes, were the funniest people on earth.