Small windows of clean conditions for the South West
Western Australia Surf Forecast by Craig Brokensha (issued Friday September 16th)
Best Days: Sunday morning Margs and Mandurah, Thursday morning Perth and Mandurah, protected spots in the South West into the PM, Friday morning all locations
Features of the Forecast (tl;dr)
Easing surf tomorrow with W/SW winds in the South West, moderate NE-N/NE early Perth and Mandurah
New SW groundswell Sun AM, easing with light E winds ahead of strengthening W/NW winds
Building surf Mon with strong S/SW tending SW winds
Large mid-period SW swell Tue, a bit stronger groundswell Wed with strong W/NW winds
Large SW groundswell for Thu PM with S/SW winds in the South West, S/SE-SE in the AM Perth and Mandurah
Easing large SW swell Fri with E winds ahead of a S/SW change
Recap
Average conditions continued across most locations yesterday with a swing in swell direction more to the S/SW. Mandurah offered a window of cleaner conditions for a brief period in the morning.
Today, conditions are a bit better across all locations but with a weaker, easing swell. Margs was still 4-6ft and bumpy, cleaner in Mandurah and to 2-3ft, 2ft in Perth.
This week and weekend (Sep 17 - 23)
Looking at the weekend ahead and a cold front will clip us, bringing onshore W/SW winds to the South West, NE-N/NE in Perth and Mandurah but with a further drop in swell, not ideal.
The front will clear quickly to the east overnight leaving much cleaner conditions on Sunday as winds shift E'ly across all locations.
This will be a small window ahead of another cold front and freshening W/NW winds into the afternoon.
Swell wise we've got a new pulse of SW groundswell due, generated by a strong but poorly structured polar low yesterday. Sets to 5-6ft are due in the South West, easing through the day, 2ft and inconsistent in Mandurah and 1-1.5ft across Perth.
Now, moving into next week and Sunday afternoon's increasing onshore winds will be linked to the start of a sustained progression of polar frontal systems to our south-west, bringing initially mid-period swell energy ahead of a stronger groundswell Wednesday, followed by a secondary swell Thursday afternoon/Friday morning.
Various fetches of gale to at times severe-gale-force W/SW-W/NW winds will be generated one on top of each other, generating building levels of large SW swell energy, building from later Monday but more so Tuesday.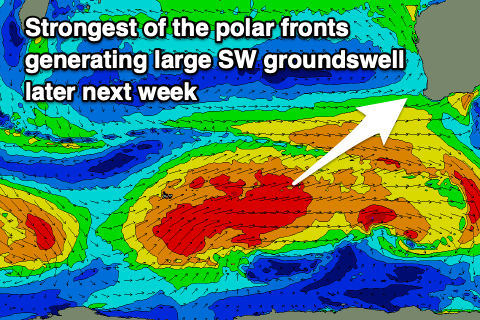 Unfortunately the progression will see onshore winds dominate us through next week, strong S/SW on Monday, shifting SW through the day and then W/NW on Tuesday through Wednesday.
Size wise surf to 8-10ft is due in the South West Tuesday and Wednesday with 3ft surf in Mandurah and 2-3ft waves across Perth.
A high will start to edge in on Thursday, swinging winds to the S/SE-SE across Perth and Mandurah while persisting from the S/SW in the South West.
The largest pulse of groundswell is due to arrive into the afternoon Thursday, kicking to 10-12ft in the South West, 3-4ft across Mandurah and 3ft in Perth.
Friday looks to be the pick with large easing sets from 10ft, 3ft and 2-3ft respectively with offshore E/SE winds ahead of a trough and strengthening afternoon S/SW change.
This trough looks to be followed by more frontal activity next weekend/week a renewal of large, stormy swell but we'll have a closer look at Monday. Have a great weekend!