Excellent weekend of large surf
Western Australia Surf Forecast by Craig Brokensha (issued Friday July 1st)
Best Days: Today Margs and Mandurah, tomorrow, Sunday, selected breaks Monday, Wednesday, Thursday, Friday
Features of the Forecast (tl;dr)
Large, long-period and inconsistent W/SW groundswell for Sat, peaking in the PM with light E/NE tending variable N winds
Large reinforcing levels of W/SW swell Sun PM and Mon with moderate E/NE tending NE and then N/NE winds on Sun, strong N/NE tending N winds Mon (holding N/NE all day Mandurah and Perth)
Easing swell Tue with strong N/NW tending W/SW winds
New moderate sized W/SW swell Wed (peaking in the PM) with light E/SE-SE tending variable winds
Smaller Thu AM with a new W/SW groundswell for the PM, holding Fri with fresh E/NE tending NE winds
Recap
A temporary drop in swell across all locations yesterday morning with tiny surf in Perth, 1-2ft across Mandurah and 4-5ft in Margs. A new, inconsistent SW groundswell arrived during the middle of the day in the South West with strong 6ft sets under gusty NE winds, favouring selected breaks. Mandurah remained clean and built to 2ft with slow sets in Perth.
Today the swell is still there but inconsistent with 5-6ft sets on the South West magnets, 2ft waves in Mandurah and tiny surf across Perth. We'll see the swell slowly easing as winds shift NNE and become variable.
This weekend and next week (Jul 3 - 8)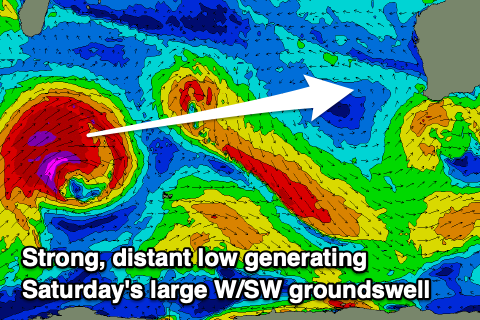 After a couple of fun days waves across the South West and Mandurah, we've got out larger, stronger and more powerful long-period W/SW groundswell due to fill in tomorrow.
This and a couple of reinforcing pulses for Sunday/Monday have been generated since last weekend by a strong progression of lows and frontal systems that spawned south-east of South Africa.
The low linked to tomorrow's long-period swell was strongest and most distant, projecting severe-gale to storm-force winds towards us and this should see inconsistent but strong, long-lined sets building to 10ft+ during the afternoon in the South West (12ft cleanups are more than likely), 3ft across Mandurah and 2-3ft in Perth.
The swell is due to ease back from a similar size Sunday morning (if not a tad smaller), but the reinforcing energy should maintain 6-8ft surf through Monday in the South West, 2-3ft in Mandurah and 2ft+ across Perth.
Conditions looks best tomorrow with a light offshore E/NE breeze across all locations, shifting more N'ly ahead of going variable.
Sunday will provide a bit more strength to the offshore with moderate E/NE winds, shifting NE through the morning and N/NE into the afternoon.
Make the most of the weekend as Monday will see deteriorating conditions as a trough approaches bringing strong N/NE tending N winds in the South West, holding from the N/NE all day further north. Tuesday will be a lay day with strong N/NW winds ahead of a W/SW change, though clearing quickly allowing winds to tend back to the E/SE-SE on Wednesday morning.
A new, mid-period W/SW swell should be in the mix, generated by a small low spawning off the back of the progression bringing the coming swell. A slow moving fetch of strong W/SW-SW winds will produce a moderate sized swell that should come in around 6ft across the South West when it peaks through the afternoon Wednesday, 2ft in Mandurah and Perth on the sets.
Sea breezes look light if anything, with fresh E/NE winds on the cards for Thursday as it eases.
From late week onwards, moderate to possibly large pulses of W/SW and SW swell are due, generated by a flurry of not overly strong but back to back fetches pushing through the Southern Ocean. Conditions look best later next week before the frontal activity moves up towards us later next weekend bringing onshore winds. More on this Monday. Have a great weekend!