Fun swell for Monday though windy
Western Australia Surf Forecast by Craig Brokensha (issued Friday January 21st)
Best Days: Today, early tomorrow in the South West, Monday protected spots, Tuesday morning in the South West, Friday morning in the South West
Features of the Forecast (tl;dr)
Easing mid-period swell tomorrow with light S/SE tending strengthening S/SW winds, smaller Sun with moderate S/SE-SE winds
Inconsistent mid-period W/SW swell for Mon with strong S/SE-SE tending stronger S/SE winds, easing Tue with fresh morning SE winds and sea breezes
New, inconsistent SW swell for Fri with fresh SE tending S/SE winds
Recap
Bumpy surf with signs of new swell across the South West yesterday, but today is the day to get wet with a peak in the mid-period W/SW energy under offshore winds. The South West is 5-6ft on the sets while Perth and Mandurah are still tiny. Sea breezes are due this afternoon but without any major strength so there should be options all day in the South West.
This weekend and next week (Jan 22 - 28)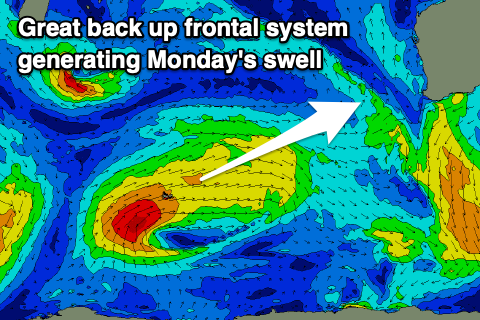 Today's swell is expected to ease back through tomorrow, dropping from 3-5ft in the South West with tiny 1-1.5ft waves in Perth and Mandurah.
Unfortunately the hi-res wind forecasts aren't too favourable for the South West tomorrow morning with a trough moving in around dawn bringing light S/SE-S breezes, swinging S/SW and increasing through the day. This will create deteriorating conditions so aim for the dawn session.
Sunday morning will be smaller and with a light to moderate S/SE-SE breeze but no quality options.
Into the afternoon the forerunners of a new, mid-period W/SW swell should start to show as winds strengthen from the S/SE, with Monday morning revealing the peak in size. The source of this swell was a more distant but stronger (compared to today's source) fetch of W/SW winds projecting through our swell window the last couple of days.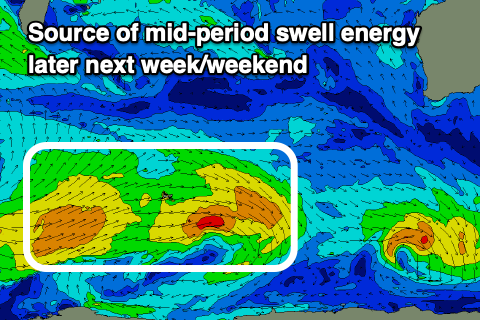 This swell looks to provide 5-6ft+ waves across the magnets on Monday morning with 2ft sets across Mandurah and Perth as winds strengthen and persist from the S/SE-SE. Hit up protected spots for the cleanest conditions through the morning.
Fresher SE winds are due into Tuesday morning as the swell eases in size from 3-4ft or so on the magnets.
Looking at the rest of the week and another mid-period swell episode from the SW, generated by a broad but weak frontal progression developing south-east of South Africa, generating fetches of strong W/NW to W/SW winds. Size wise it looks to build later Thursday, peaking Friday to 3-5ft, with a possible stronger pulse on Saturday more to 4-6ft. Perth and Mandurah look tiny and winds will be favourable each morning and out of the SE.
Longer term the outlook remains slow but we'll have a closer look at this Monday. Have a great weekend!